EV's Take on RollinGreens Vegan Meat Substitutes
Anyone else tossing out old (sometimes moldy, oops) food from their fridge on a weekly basis? Anyone else too tired to grocery shop? Anyone preparing for the next snowpocalypse? Or maybe just the regular apocalypse?
If you answered "yes" to any of those questions—and you love savory, plant-based proteins— RollinGreens may be for you!
But if you're not a doomsday hoarder, or even a vegan, RollinGreens still may be for you. Their shelf-stable packets create delicious meaty spoonfuls that are ready in about 10 minutes whenever you need them, whether that's at lunch tomorrow or lunch… next year.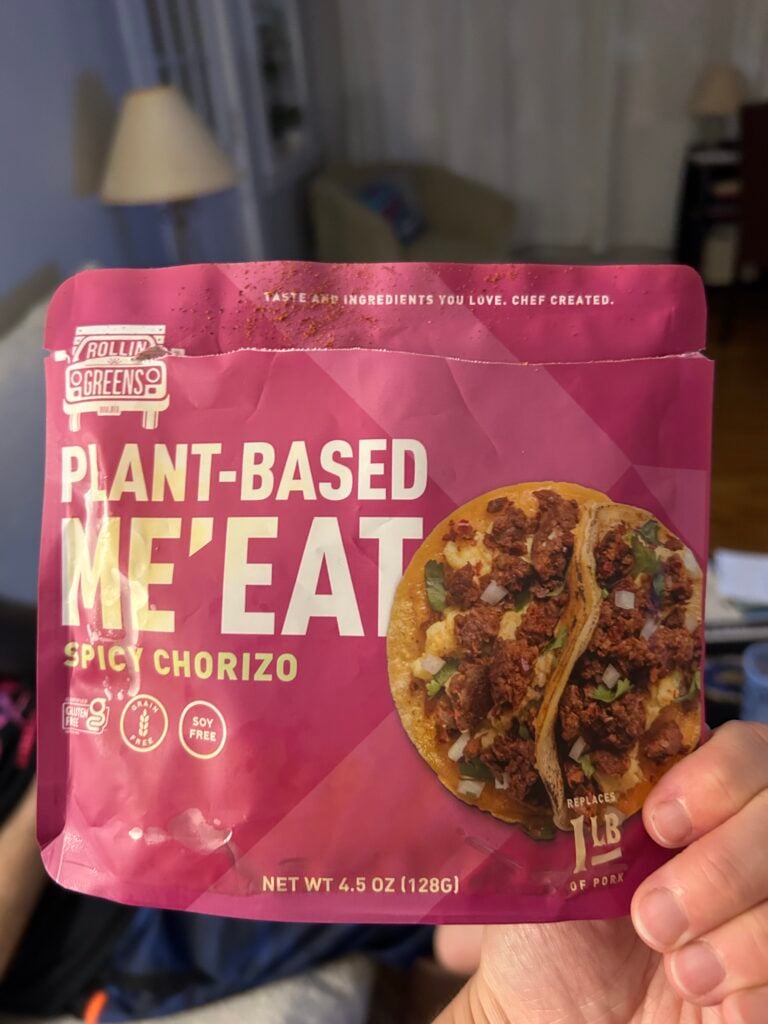 RollinGreens, a Shark Tank alum, has sold chef-crafted, plant-powered foods for years now, but evolved to offer four "meats" that make whipping up a hearty meal possible with just the packet of dried protein crumbles and seasoning, water and oil. The best part is that these vegan meats, made of pea protein, are an easy pantry staple. You can stock up on them, or hold on to a couple for when you're out of fresh ingredients. They won't take up room in your fridge and they won't go to waste, or waste your money.
The second best part about RollinGreens is the seasoning blends and the sauces they create. This sauce acts as something of a marinade as well as a savory, moist addition to whatever you're topping—vegan tacos, rice bowls, omelets, nachos or more.
The sauce is the wow factor that separates RollinGreens from the rest. Many plant meats don't include much seasoning or sauce, if any. Which is good if you want to create your own flavor. But in my experience, nailing down amazing flavors takes plenty of time and experience. As a home cook, I really appreciated RollinGreens including the expertly selected ingredients for a flavorful sauce right in the package. The sauces lend both moisture and more complex flavor to the meats, making them feel more like a complete meal as opposed to just a salad topper.
Overall, I thought RollinGreens' protein blends were delicious. But let's break down each of their four flavors to get the full picture.
Plant-based Me'eat: Spicy Chorizo
When writing about multiple products, I like to get right to the good stuff. RollinGreen's chorizo was my favorite of all their flavors. It also may be my favorite vegan chorizo alternative out there, period. How's that for a recommendation?
These crumbles are similar to their ground taco ones, but feature chorizo's more zippy, smoky taste. I immediately started smelling the aroma as it started cooking, so I knew I was in for a treat. While the meat is a little chewy, the flavor was amazing enough to make up for any lack of resemblance to actual meat.
I incorporated this sauté into my very first attempt ever at potato skins. And wow was I glad I took that risk. On a bed of buttery, golden potato starch, these spicy crumbles melted right in my mouth. While great on a tot, they would definitely impress within a burrito, on rice, in a quesadilla… RollinGreens even has a recipe for making them into sausages.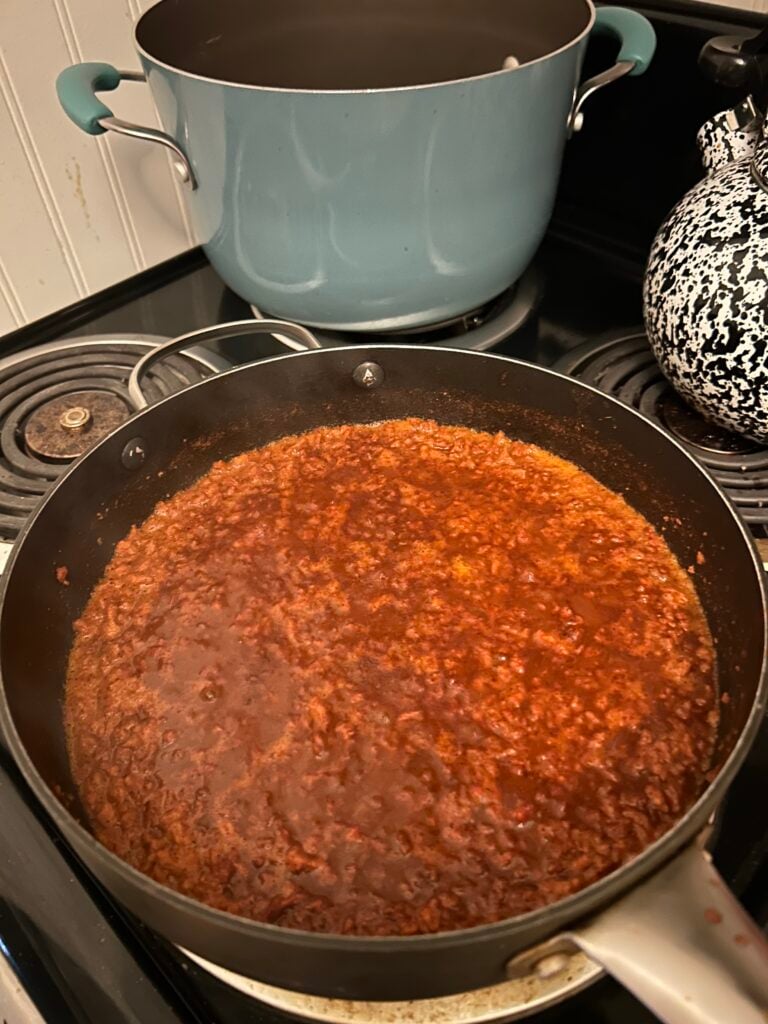 Plant-based Me'eat: Ground Taco
This is my second favorite of theirs, but that's only a matter of personal preference, since I'm so fond of chorizo. RollinGreens' ground beef taco "meat" is just as great as the chorizo, but featuring more standard taco spices like garlic, onion, and chili powder. However, the flavor is anything but basic. Jalapeno and pinto bean flakes bring some heat and depth to the spice mixture that builds a relatively thick, delicious sauce.
I love my smokey-spicy sausage meat, but this classic taco beef mixture took me back to some childhood favorites. The look and consistency of beef crumbles in a hearty sauce reminded me of Hamburger Helper, sloppy joes, and thick globs of chili. I welcomed this, because on top of tasting great, the sauce prevented our tacos from being dry. We didn't need tons of cheese, sour cream or even salsa; The meat and sauce delivered all the flavor and moisture needed for a well rounded plate.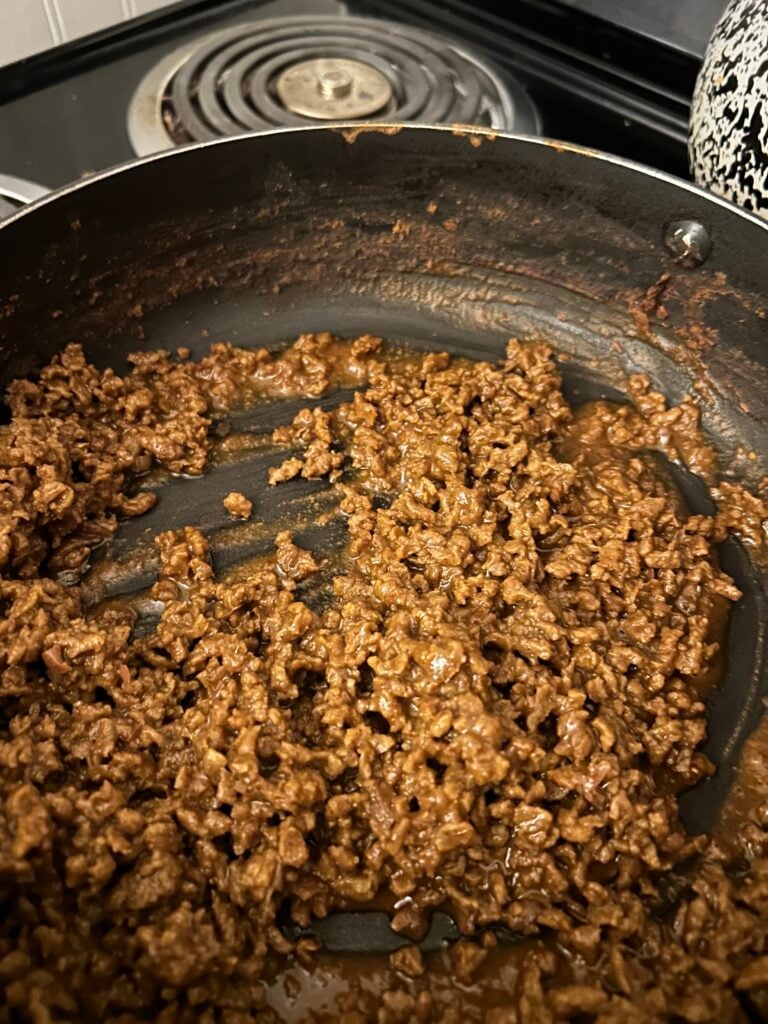 Plant-based Chic'ken: Chopped Fajita
All of the trademark aspects of RollinGreens are here—easy cooking process, delicious seasoning, a juicy coating of sauce. But the texture of this chicken didn't do it for me. While I liked the shape of the "chic'ken," formed into chunks rather than ground meat-style crumbles, I was a little disappointed to encounter an even squishier, watery piece of meat than I did with the chorizo and beef taco. It wasn't bad, just not my favorite texture and not very close to real chicken meat.
However, to the chic'ken's credit, the fajita flavoring was on point. While not as vibrant and aromatic as the ground taco, it delivered the wholesome, oniony aroma of hot-off-the-grill fajita toppings. Ladled on top of a bed of rice, it made a satisfying meal.
Classic Salt & Pepper
This is the ground beef-esque variety that RollinGreens recommends for burger patties. The more neutral-seasoned crumbles could certainly be served unpacked, sprinkled on salads or tossed in soups. And usually, I would take this easy way out. But I have never made my own burger patty with any kind of meat, animal or plant based, so I wanted to give it a try.
I prepared these dry meat crumbles just like the others—on the stovetop for 10 minutes with water and oil. But to make the plant-based burgers, you have to shape the crumbles and let them cool in a burger-shaped container. The packaging provides good directions and suggests a mason jar ring or lid, but I didn't have that, so I stuffed the crumbles in a small Pyrex bowl and a water bottle lid.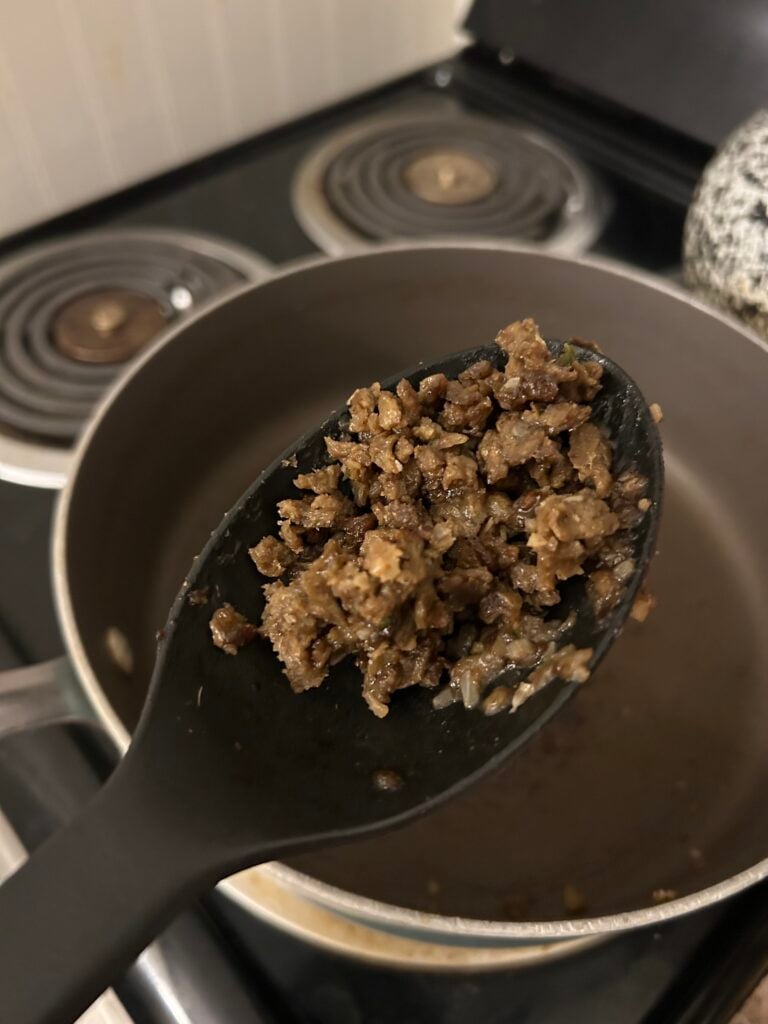 You then need to place your burger molds in the fridge for at least a half hour. Honestly, I was hungry and impatient (typical), so the patties might have spent 20 minutes in the fridge before going back on the frying pan. As one would expect, they cooked a little crumbly, one of the patties falling apart mid-flip. The other patty remained in tact, but later lost some crumbles while being devoured.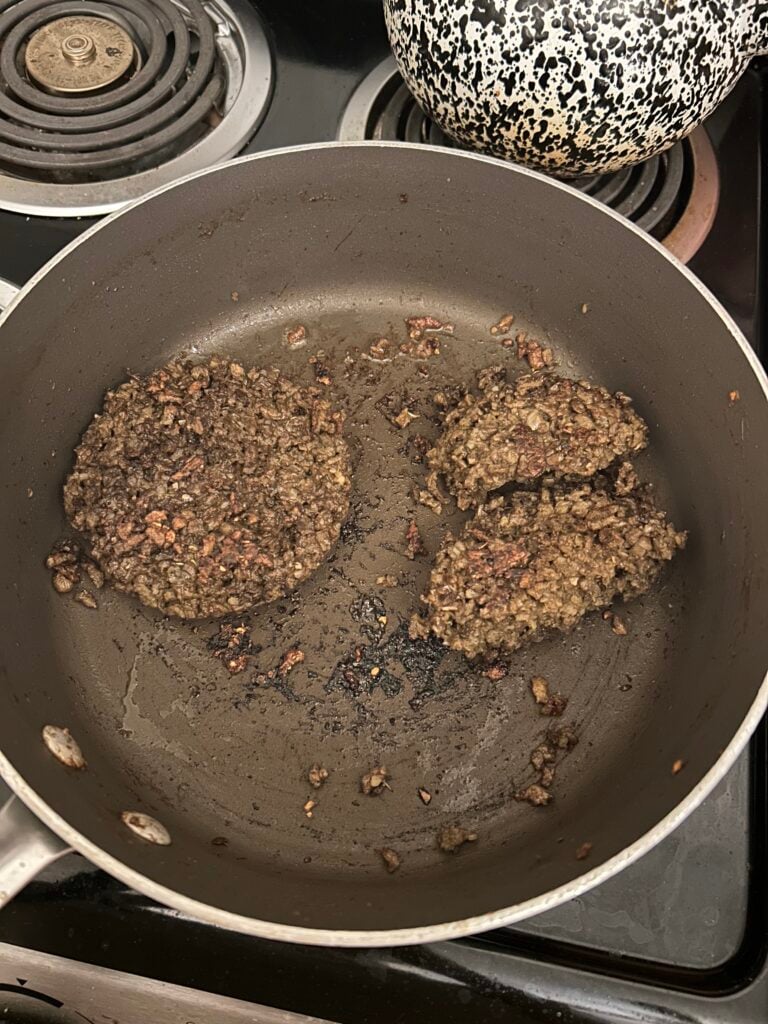 Luckily, the shape and hold of the burgers did not impact the taste. I LOVED these vegan burgers. The meat was hearty and satisfying. Though only seasoned with salt and pepper, they were still really flavorful, more so than plain burger meat. The seasoning added a unique savory flair to the meat that you can't get from other plant-based options. Note, also, that this flavor didn't build much of a sauce, which is beneficial for forming the burgers.
Where Can I Find RollinGreens?
Walmart is the only store near me with RollinGreens products, but it's great to see a vegan product at a retailer so accessible across the U.S.
In addition to Walmart, RollinGreens is available at Sprouts, Whole Foods, Raley's and Kroger. By the end of the year, they'll also be found in Safeway and Albertsons. You can also order directly from their website.
Try RollinGreens for yourself and let us know what you think in the comments!