You know I love a good brothy bean recipe, and these easy vegan brothy beans are a new favorite. It's filled with all my favorite things: beans, mushrooms, and pasta. This is a perfect and easy one-pot vegan recipe you'll love.
For this recipe, you only need a handful of ingredients, and many of them are probably tucked away in your pantry already.
Here's what you need:
Mushrooms: Use any kind and slice or tear them depending on the variety. I used beech mushrooms, but sliced cremini or torn oyster mushrooms would be great.
Aromatics: Including onion, garlic, dry thyme, and crushed red pepper or Calabrian chili peppers.
Beans: White beans like cannellini beans work really well in this recipe, but it would also be delicious with great northern or navy beans.
Orzo: Use any small pasta like acini di pepe or even pearl couscous.
Tomatoes: Fresh cherry tomatoes or canned diced tomatoes work perfectly in this recipe.
For finishing: Basil and lemon juice add a beautiful herby brightness at the end. If you don't have basil, use parsley, scallions, or even dill.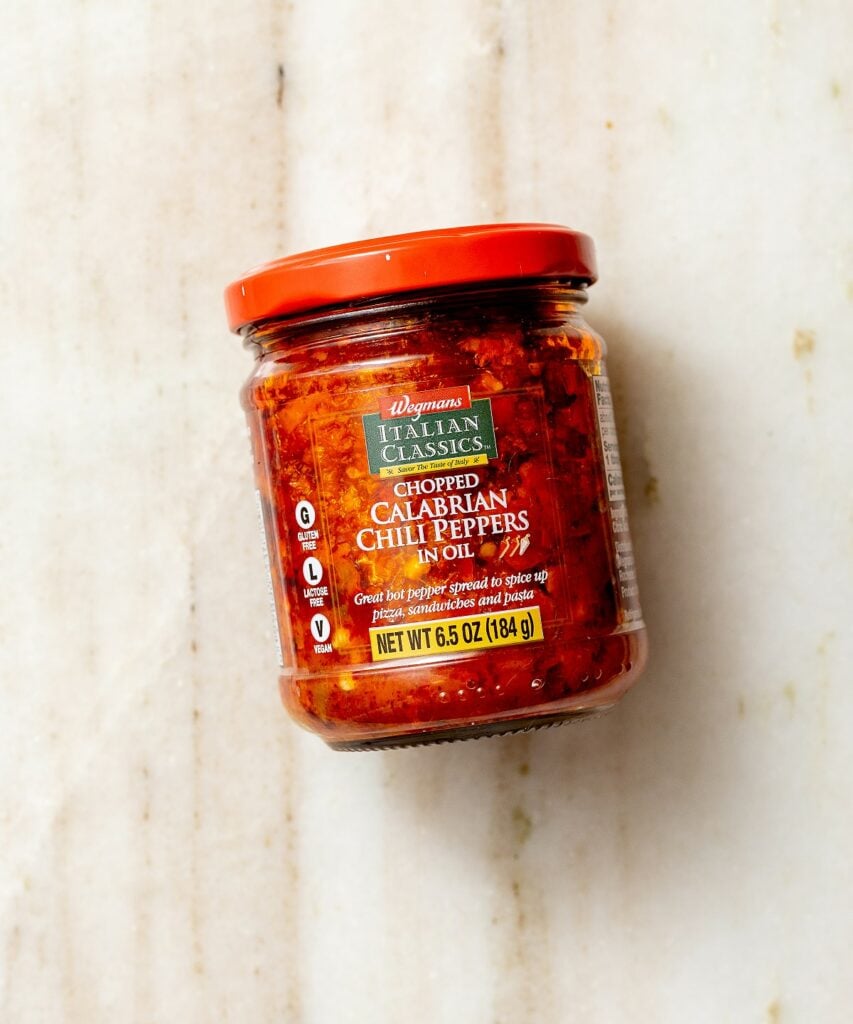 What are Calabrian chili peppers?
If you like a bit of extra heat, keep Calabrian chili peppers in your fridge at all times. Trust me. You can absolutely replace it with crushed red pepper, but the spicy, bright fruitiness from chopped Calabrian chili peppers really adds another layer of complexity.
Calabrian chili peppers hail from Calabria, a region in southwest Italy. They are moderately spicy and range anywhere from 25,000 to 40,000 SHU on the Scoville scale. For reference, a jalapeño ranges from 2,000 to 8,000 SHU.
They don't bring just heat, though. They have a complex flavor profile, with fruity, smoky, bright undertones. While they are spicy, their heat isn't as intense and burning as other hot peppers.
While not completely necessary for this recipe, if you can find a jar of Calabrian chili peppers in oil, they're worth having in your pantry. You can throw them on pizza, stir them into soup, or whisk them into salad dressings.
As I mentioned above, if you don't have the Calabrian chili peppers, don't let that stop you from making this recipe! Use crushed red pepper or your favorite hot sauce or chili paste.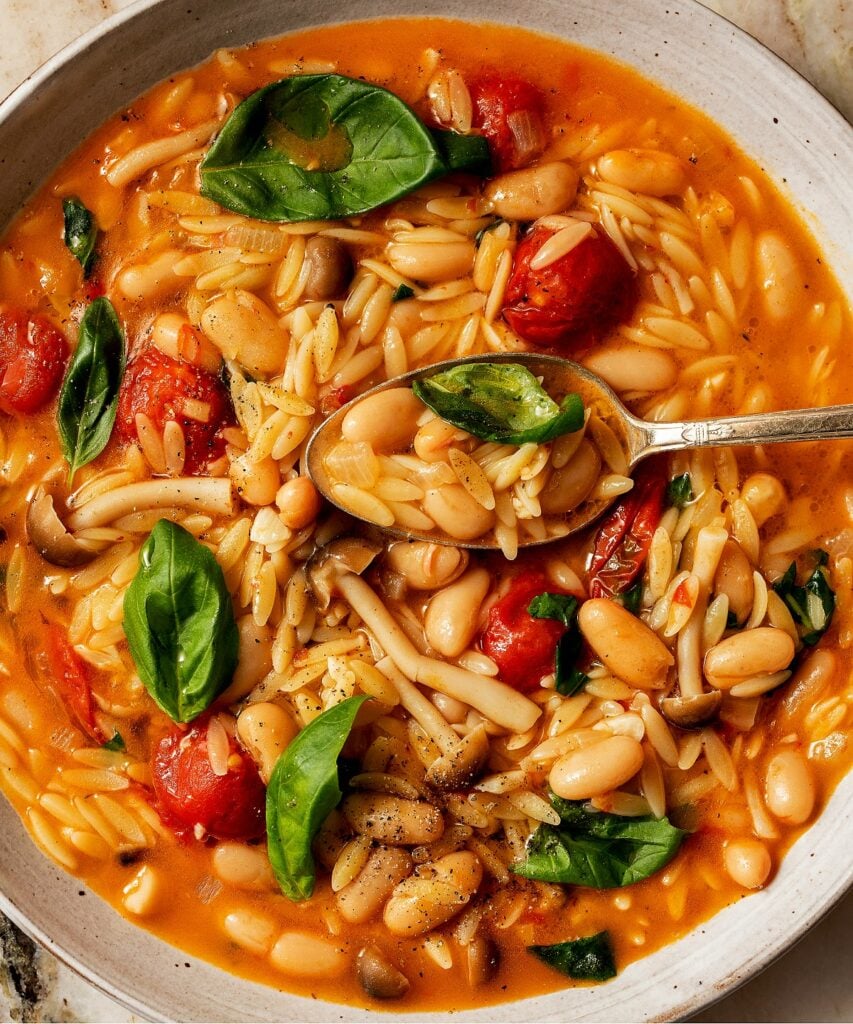 How to make this brothy bean recipe:
This is probably one of the easiest one-pot vegan recipes out there. A few ingredients, one pot, and about 35 minutes from cutting board to table. What could be better?
Step 1: Cook the mushrooms first in a dry pot. This will give them time to sweat out any excess water. Add the onions and cook until just soft.
Step 2: Add the rest of the aromatics, including garlic, dry thyme, and crushed red pepper. Once fragrant, add tomato paste.
Step 3: Throw in the beans, tomatoes, and water. Bring to a boil and add the pasta. Cook it for about 8–12 minutes until the pasta is al dente.
Step 4: Finish the beans with lemon juice and basil, if you like.
Step 5: Serve it up! Divide the beans between bowls and garnish with more basil if you like.
One consideration: The pasta will swell in the broth, but I don't mind that for leftovers. Well, I don't mind it enough to bother breaking out another pot. I know you've been there, too! The next day, I just add a few splashes of water to the leftovers. If you're averse to pasta swelling, cook the pasta separately and serve the broth over the pasta in bowls. Store separately in the fridge.
Looking for more bean recipes? Check my archives!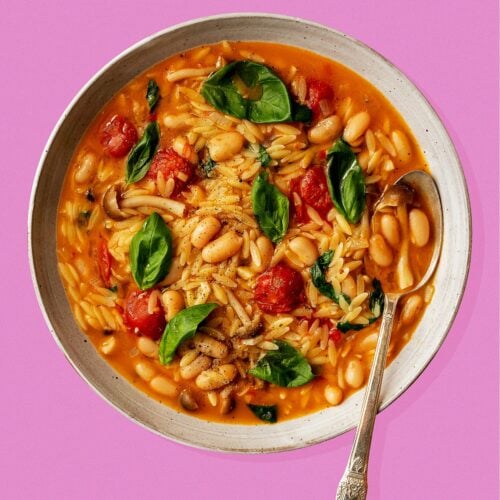 Easy Vegan Brothy Beans
Mushrooms, beans, and pasta: the trifecta of an easy, filling dinner.
PRINT
PIN
Ingredients
8

ounces

mushrooms, sliced or torn depending on the variety

1

tablespoon

extra virgin olive oil

1

yellow onion, peeled and minced

A pinch of dry thyme to taste

4

cloves

garlic, peeled and minced

2

teaspoons

Calabrian chili peppers in oil, or use crushed red pepper flakes to taste

1

tablespoon

tomato paste

15-

ounce

can cannellini beans

1

pint

cherry tomatoes or use a 15-ounce can of diced tomatoes

4

cups

water, plus more if needed

8

ounces

orzo, or other small pasta

10

basil leaves, roughly chopped; a few leaves reserved for garnish

1

lemon, juiced

Salt and pepper to taste
Instructions
Cook the onion and mushrooms:
Place a pot on a burner over medium heat. Add the mushrooms to the dry pot and cook for 5–7 minutes until they release excess water. Cook for an additional 5 minutes until lightly browned. Season with salt and pepper.

Add the 1 tablespoon extra virgin olive oil to the pot of mushrooms along with the diced onions. Cook for 5–7 minutes.

Add the thyme, garlic, and Calabrian chili peppers. Cook for 1 minute until fragrant. Add tomato paste, if using, and cook for 1 minute.
Cook the beans and pasta:
Add the beans, tomatoes, and 4 cups water. Bring to a boil and season liberally with salt. Once boiling, add the orzo. Reduce heat to a low bowl (medium to medium-high, depending on your stove). Simmer, occasionally stirring, for 8–12 minutes until the orzo is al dente. Taste and season.
Finish the beans:
Add the chopped basil and lemon juice to the pot. Turn off the heat.
To serve:
Divide the cooked beans and pasta between bowls. Serve with black pepper and more fresh basil, if you like.
Nutrition
Calories:
381
kcal
|
Carbohydrates:
73
g
|
Protein:
16
g
|
Fat:
5
g
|
Saturated Fat:
1
g
|
Sodium:
283
mg
|
Fiber:
11
g
|
Sugar:
8
g