This miso-glazed vegan asparagus recipe is rich, umami, and a perfect spring side dish. Loaded with pearl onions (if you've never peeled pearl onions, don't worry; I'll tell you how!) and lots of fresh asparagus, this will be your new favorite vegan side dish.
I've talked before about how miso is such a great ingredient to have when exploring vegan cooking. It lends a rich, umami flavor to just about anything. This vegan asparagus recipe is a little sweet, a little spicy, and super savory.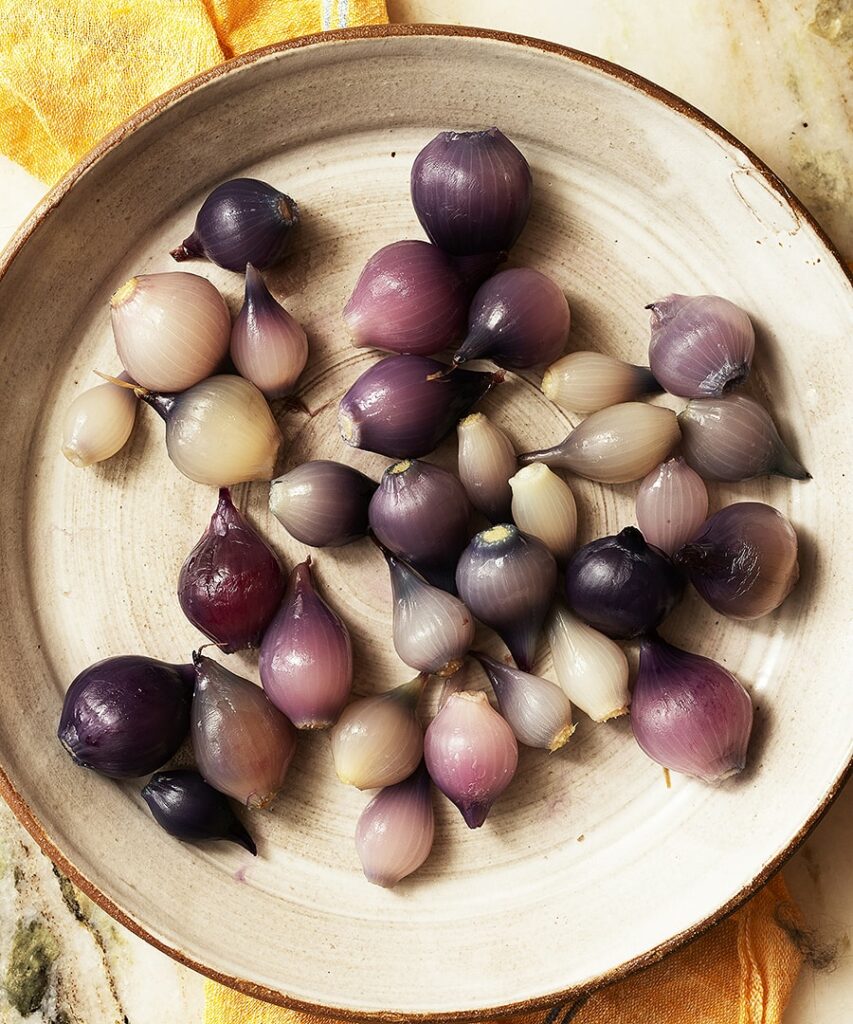 Before you get started on the recipe, you'll want to prep your ingredients first. Have you ever had to peel pearl onions before? It may seem intimidating, but I promise it's super easy.
How to prep and peel the pearl onions:
First, bring a small pot of water to a boil. Add the pearl onions and boil for 3 minutes.
Drain and transfer to an ice bath.
Using sharp scissors, snip off a tiny piece of the root end. This will help detach the onion skin from the onion.
Squeeze the top of the onion gently to pop it out of the skin.
That's it! The skins will pop off effortlessly, and you'll be ready to sauté the onions.
Prep the asparagus:
To prep the asparagus, simply snap off the root end of one of the spears. Bend the stalk slightly to see where it naturally breaks. Use that as a guide for cutting off the woody ends of the remaining asparagus spears.
Make the miso butter:
In this recipe, I make a quick piquant miso butter. You need only a few ingredients, including:
Plant-based butter
Miso paste
Rice vinegar
Soy sauce
Brown sugar
Chili oil
I whisk them together until smooth. The sauce will be intensely flavored, but don't worry; it will mellow out once it cooks a bit!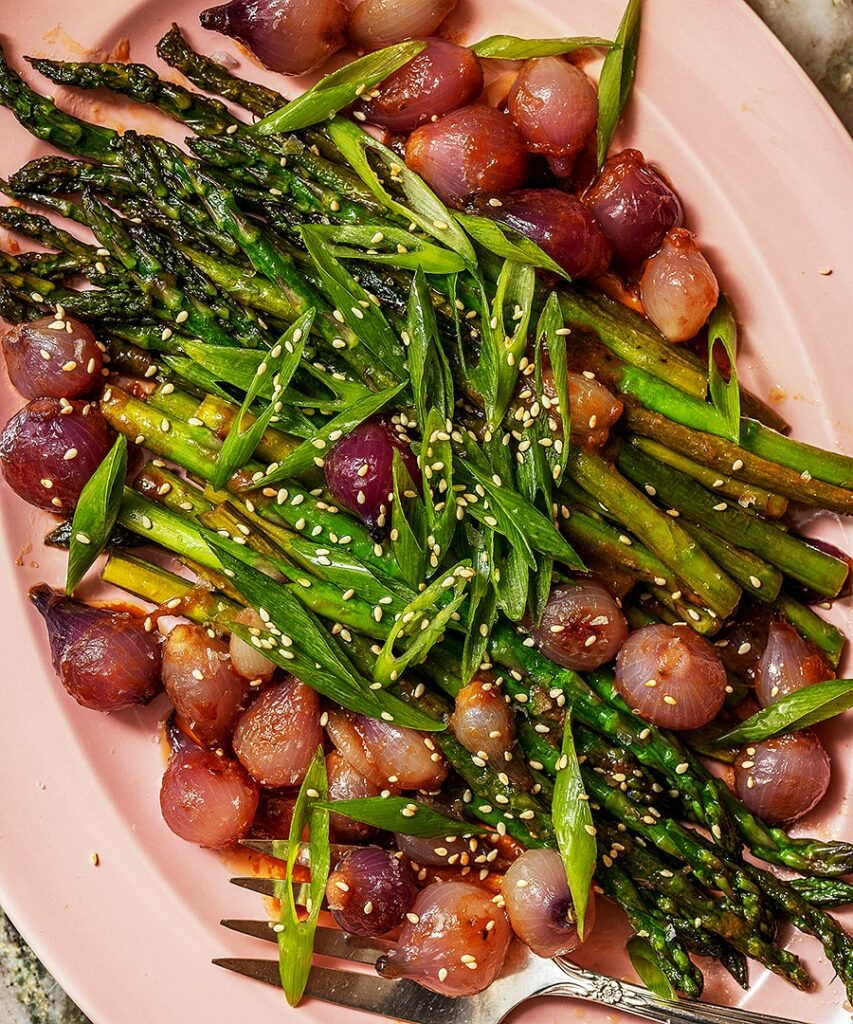 How to make this miso-glazed asparagus:
Once everything is prepped, you can make the miso-glazed asparagus!
Step 1: Fry those onions! Cook them in a bit of oil until they're just about fork-tender and beginning to brown in spots.
Step 2: Sauté the asparagus! Throw the asparagus spears in with the onions and cook until bright green and almost fork-tender, about 5 minutes.
Step 3: Glaze, glaze, glaze! Pour in your glaze and let it bubble very briefly. Reduce heat and simmer for 5–7 minutes until the sauce is thickened and the asparagus is bright green and fork-tender.
That's it! It's so easy to make and would be amazing with grilled or pan-fried tofu or with crispy chickpeas scattered on top!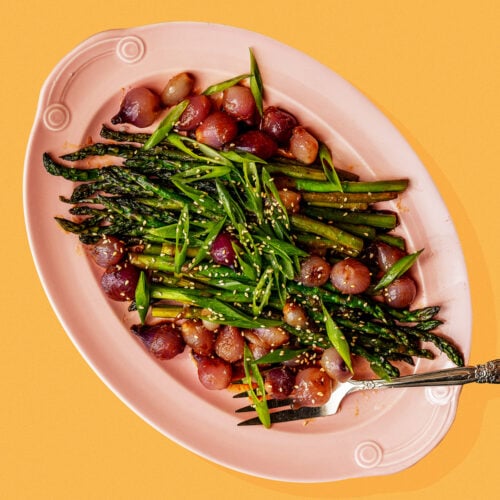 Miso-Glazed Asparagus
A rich, umami side dish that packs a sweet and savory punch.
PRINT
PIN
Ingredients
8

ounces

red pearl onions

1

tablespoon

neutral oil

2

tablespoons

plant-based butter

2

tablespoons

red or white miso paste*

1

tablespoon

brown sugar

2

teaspoons

rice vinegar

2

teaspoons

light soy sauce

1

teaspoon

chili oil

1

pound

asparagus, woody ends removed

Salt to taste

Sliced scallions and sesame seeds, optional, for garnish
Instructions
Prep the pearl onions:
Bring a small pot of water to a boil. Once boiling, add the pearl onions and cook for 3 minutes. Drain and immediately transfer to an ice bath.

Once the onions are cool to handle, carefully snip off a sliver of the root end using sharp scissors. Squeeze the top of the onion to pop the onion from its skin. Continue until all the onions are peeled.
Fry the onions:
Heat 1 tablespoon neutral oil in a large skillet over medium heat. Add the onions and sauté for 15 minutes, turning occasionally, until they begin to brown and soften. Season with salt.
Prepare the sauce:
Microwave 2 tablespoons plant-based butter in a bowl until melted. Add the miso paste, brown sugar, rice vinegar, light soy sauce, and chili oil and whisk until smooth. Taste and adjust the seasonings to your preference.
Cook the asparagus:
Add the asparagus spears to the skillet with the onions. Cook for 5 minutes until almost fork-tender.
Finish the miso-glazed asparagus:
Pour in the miso glaze and turn the heat to medium-high. As soon as it begins to bubble, reduce heat and simmer for 5–7 minutes or until the glaze thickens and the asparagus is fork-tender and bright green. Taste and season. Turn off the heat.
To serve:
Arrange the asparagus and red onions on a serving platter. Garnish with sesame seeds and sliced scallions. Enjoy!
Recipe notes
Use red miso for a more intense flavor and white miso for a more delicate flavor.
Nutrition
Calories:
140
kcal
|
Carbohydrates:
13
g
|
Protein:
3
g
|
Fat:
9
g
|
Saturated Fat:
2
g
|
Sodium:
218
mg
|
Fiber:
3
g
|
Sugar:
7
g