This recipe for skillet zucchini and mushrooms is one of my favorite easy, vegan side dish recipes. All you need is a few ingredients and a super hot skillet.
I love mushrooms in pretty much any form, but pairing them with plant-based butter and perfectly sautéed zucchini takes them to another level.
What I love about this side dish recipe is that you can easily serve it with your favorite plant-based protein. Try it with crispy tofu or braised seitan. You could also use the zucchini and mushrooms as a topping to potato or vegetable purées and serve it with crispy chickpeas. They would also pair perfectly with creamy polenta or charred cauliflower steaks!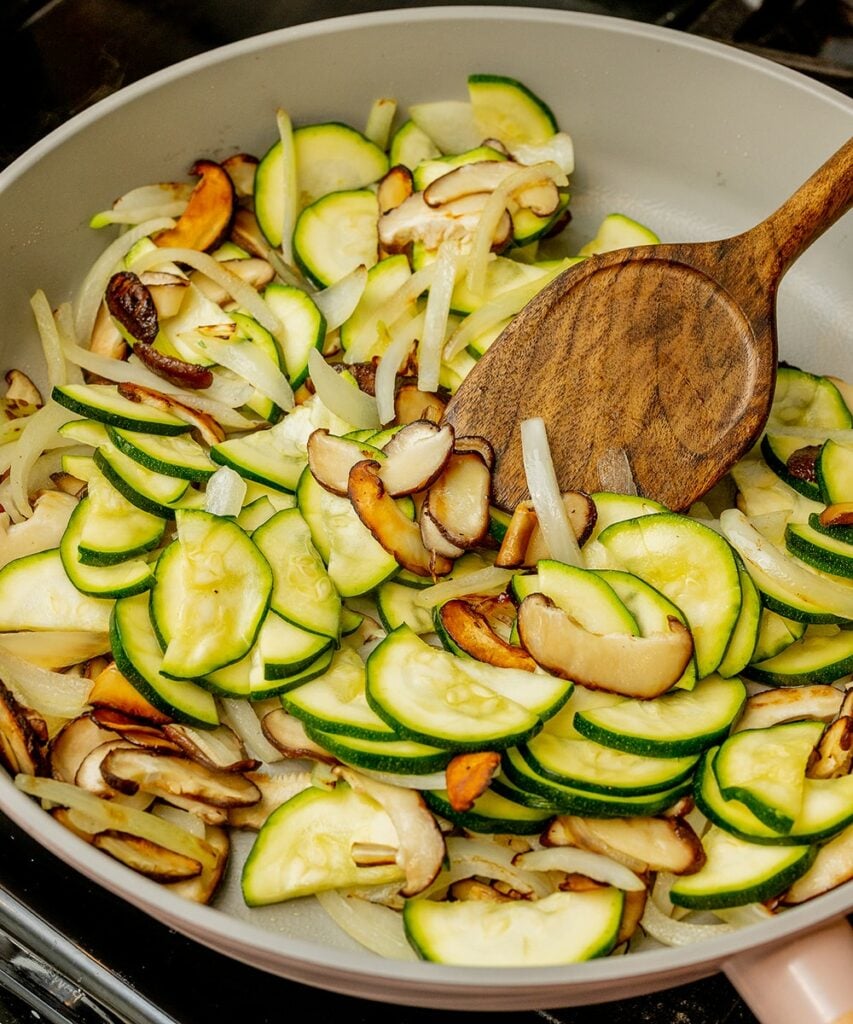 How to make this skillet zucchini and mushrooms recipe:
The key to this skillet zucchini and mushrooms is salting the zucchini first. The salt draws out the water, which will reduce the amount of water they release in the skillet. This keeps everything in the pan (mostly!) dry, which results in perfect tender-crisp zucchini and beautifully browned mushrooms.
Here's what you need to make it:
Mushrooms: Use your favorite variety of mushrooms. Anything from the standard cremini to foraged maitake or blue oyster mushroom will work well here!
Zucchini: You'll need one decently sized zucchini or two small zucchini, but try this recipe with eggplant or yellow squash!
Onion: A simple yellow onion, but you can replace it with shallot or even leeks.
Plant-based butter: A pat of plant-based butter thrown in at the end lends a nice richness to this vegan side dish recipe!
Fresh parsley: This adds just a nice herby brightness at the end.
That's it! You can get creative with spices, but I keep it simple with salt and pepper. Try it with your favorite spice blend–spicy or savory–or throw in a little dry thyme and paprika if you want to further enhance the flavors of this vegan zucchini recipe.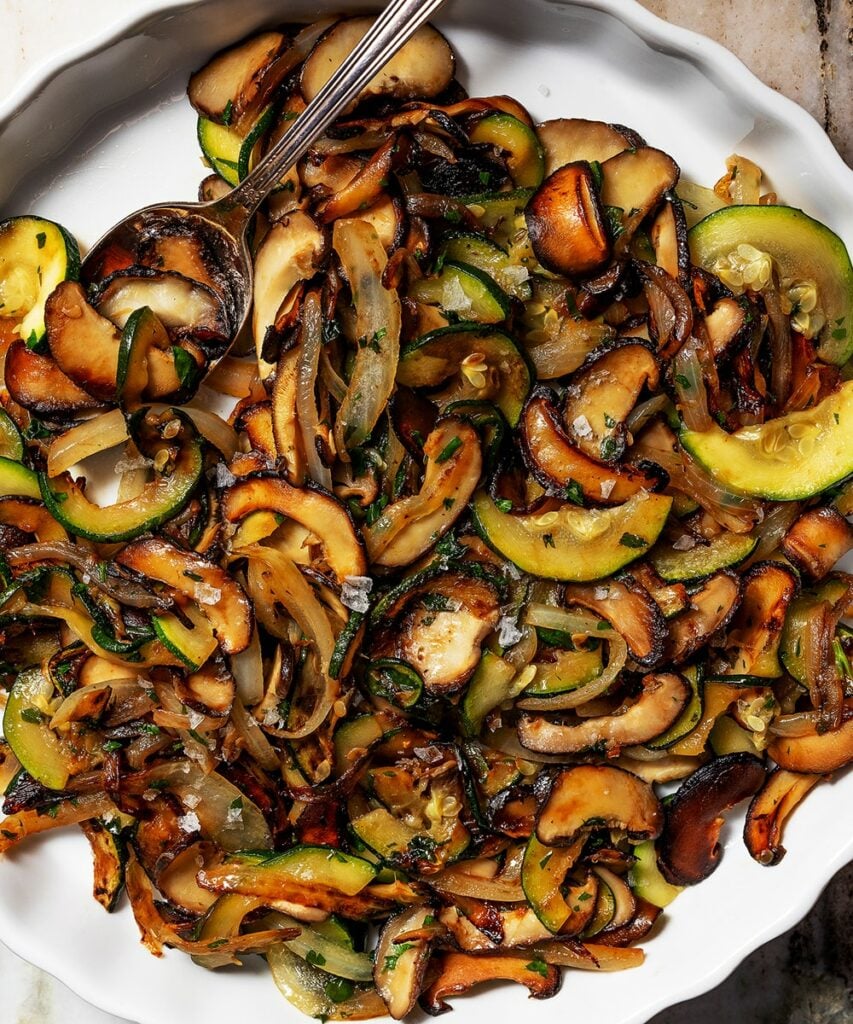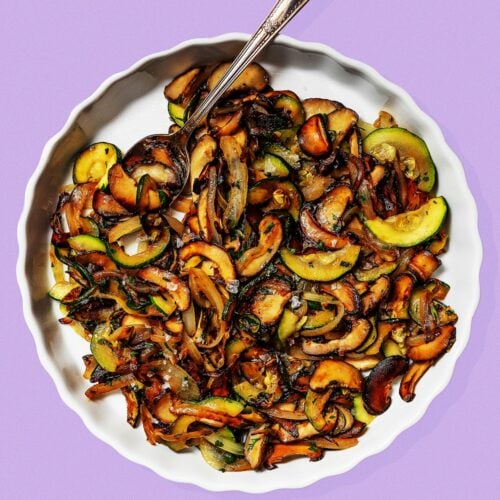 Skillet Zucchini and Mushrooms
It's one of the easiest side dishes out there and these zucchini and mushrooms pair well with just about anything.
PRINT
PIN
Ingredients
1

zucchini, trimmed and sliced into half-moons

8

ounces

mushrooms, trimmed, wiped clean, and sliced

1

teaspoon

olive oil

1

yellow onion, peeled and thinly sliced

2

tablespoons

plant-based butter

1

tablespoon

fresh parsley

minced

Salt and pepper to taste
Instructions
Prepare the zucchini:
Line a bowl with paper towels. Place the sliced zucchini in the bowl and season all over with a generous pinch of salt. Toss to combine and let stand for 10–15 minutes.
Cook the mushrooms:
Place a skillet on the stovetop over medium-high heat. Once hot, add the mushrooms and cook for 8–10 minutes. They will release a lot of moisture, which will evaporate, allowing them to take on a deep golden color. Season all over with salt and pepper.
Sauté the zucchini and onion:
Pat the zucchini dry and discard the paper towels.

Pour the olive oil into the skillet with the mushrooms and toss to coat the mushrooms in the oil briefly. Add the onion and sauté for 5 minutes. Add the zucchini and sauté for 3–4 minutes over medium-high heat until the zucchini softens.

Reduce the heat to low and stir in the butter and parsley. Cook for 3–4 minutes until the onion and zucchini are softened and glossy. Season with salt and pepper.
To serve:
Spoon the zucchini and mushrooms into a serving bowl and enjoy!
Nutrition
Calories:
81
kcal
|
Carbohydrates:
6
g
|
Protein:
3
g
|
Fat:
6
g
|
Saturated Fat:
1
g
|
Sodium:
53
mg
|
Fiber:
2
g
|
Sugar:
4
g