This easy mushroom fried rice is a weeknight winner. It may require some prep, but once you're done chopping and slicing, dinner comes together in a jiffy. This vegan fried rice recipe combines baby bella and dry shiitake mushrooms and a delicious, easy-to-prepare sauce you'll love.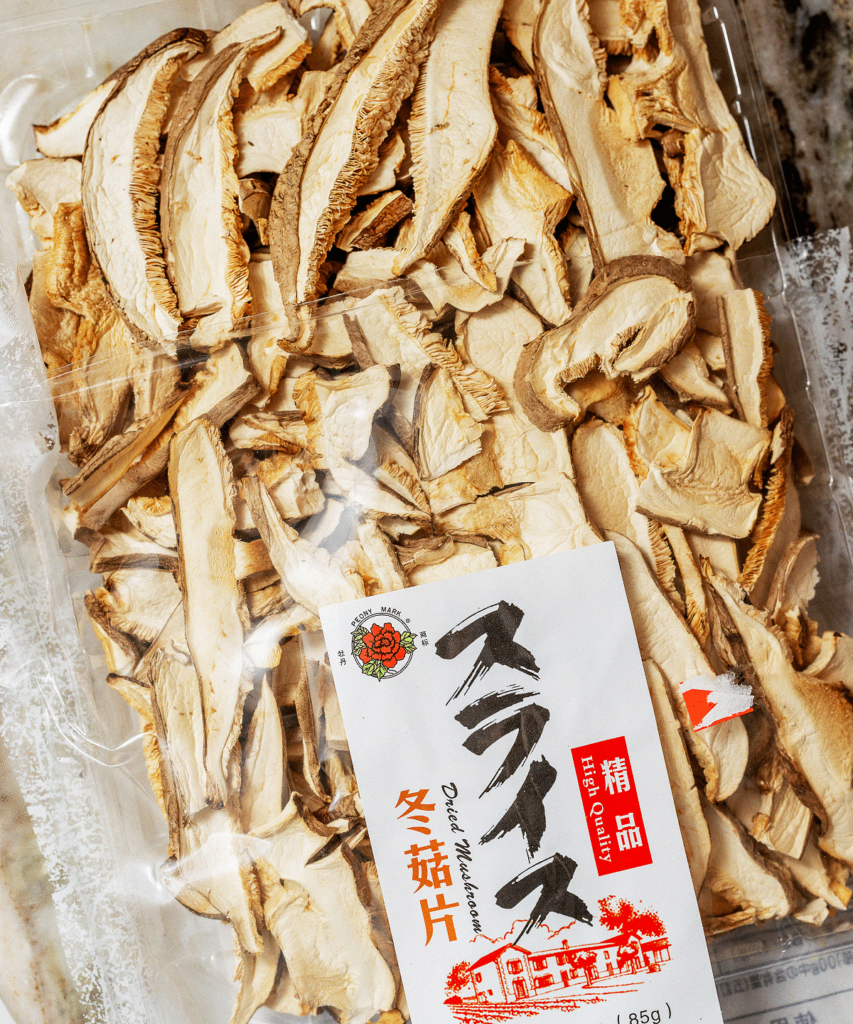 How to make this easy mushroom fried rice:
Before we get into the recipe, let's talk about the dry shiitake mushrooms above! This recipe uses these dried beauties in place of fresh ones. You can typically find dry shiitake mushrooms in Asian grocery stores like Hmart. Don't fret if you cannot find them; just replace them with fresh shiitake mushrooms.
Why use dry shiitake mushrooms? The drying process actually intensifies the flavor of the mushroom, yielding a more intense umami flavor than their fresh counterparts. They're also just great to keep on hand since they have a much longer shelf life than fresh shiitake mushrooms, meaning you can whip them out and add a complex umami flavor to just about any dish.
How to cook with dry shiitake mushrooms:
If you've never cooked with dried mushrooms, don't worry! It's as easy as can be. But first, you need to rehydrate them. This process can be as quick as twenty minutes in hot water, or you can let them soak overnight in cold water. My preferred method is to bring two cups of water to a boil, turn off the heat, add the shiitake mushrooms, and let them soak in the hot water for twenty to thirty minutes.
Once the mushrooms rehydrate, you can use them just like you would fresh mushrooms. They typically won't brown as well as regular mushrooms because of all the additional moisture, so keep that in mind when you're sautéing them.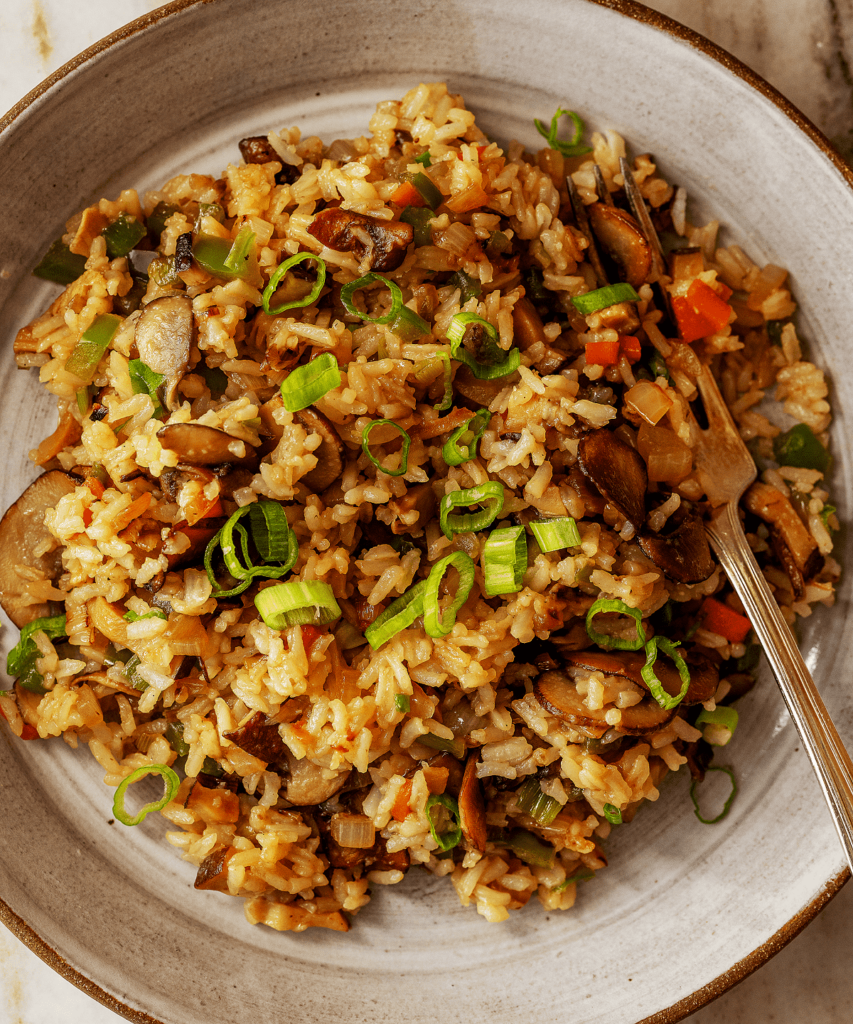 Now, let's make this vegan fried rice:
One tip for fried rice: it's best when using day-old rice. If you don't have cold, cooked rice, fear not! Cook your white rice as you normally would and dump it onto a sheet pan or into a big bowl. If using a big bowl, use the back of your spoon to spread the rice into an even layer up the sides of the bowl. You want to avoid a big hot pile of rice in the middle of the bowl because it won't cool down fast enough. Pop the tray or bowl in the freezer for 10–15 minutes. The extra cold air will remove the excess moisture from the rice and dry it out. This will give you a very close approximation to day-old rice!
Let's get cooking!
Step 1: Before you begin cooking anything, soak your mushrooms and set them aside.
Step 2: Make your rice and pop it in the freezer if needed.
Step 3: Chop, chop, chop! Get all your veggies–onion, pepper, scallions, mushrooms, and carrots–prepped and set them aside.
Step 4: Make the sauce. It's just a few ingredients, including light soy sauce (or use low-sodium), sesame oil, soaking water from the mushrooms, minced ginger, a touch of white pepper, and a pinch of crushed red pepper.
Step 5: Once everything is prepped and ready to go, it's time to fry! You can cook this in a wok (preferably) or a nice wide skillet! Start with the fresh mushrooms; add the onions, white scallion parts, carrots, diced bell pepper, and chopped shiitake mushrooms. From there, add the rice and break it up as it cooks. Toss to combine with the vegetables. Some bits of rice will begin to crisp up. After a few minutes, pour in that sauce and toss to combine. Cook briefly, and then add the green parts of the scallions and toss to combine.
What else can I add to my fried rice?
The best part about fried rice is that just about anything can go in! Try adding frozen peas at the end or throw in fresh sugar snap peas or snow peas. You can also throw in some spinach. You can even scramble up a little bit of Just Egg for some nice plant-based protein.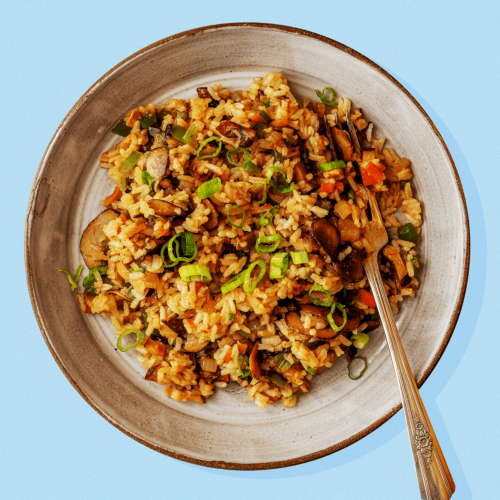 Easy Mushroom Fried Rice
Fragrant fried rice filled with mushrooms and veggies is the best option for a quick weeknight meal.
PRINT
PIN
Equipment
Small pot

Large wok or skillet
Ingredients
3

cups

day-old rice

see note below

2

cups

water

.5

ounce

dry shiitake mushrooms

3

tablespoons

vegetable oil

8

ounces

baby bella mushrooms

trimmed, wiped clean, and thinly sliced

5

scallions

minced; white and green parts separated; reserve a pinch of scallion greens for garnish

1

small yellow onion

peeled and small-diced

1

green bell pepper

trimmed, seeded, and small-diced

2

small carrots

trimmed, peeled, and small-diced

¼

cup

light soy sauce

or use low-sodium soy sauce

1

teaspoon

sesame oil

2

tablespoons

mushroom soaking water

1

teaspoon

minced ginger

Pinch

of white pepper, optional

Pinch

of crushed red pepper

Salt to taste
Instructions
Prepare the mushrooms:
Bring 2 cups of water to a boil in a small saucepan. Turn off the heat and add the mushrooms. Soak for 20 to 30 minutes. Remove the mushrooms and dice them.
Prepare the vegetables:
Dice all of the vegetables needed for the fried rice. Place the baby bella mushrooms in one bowl and combine the white parts of the scallions, the yellow onion, bell pepper, and carrots in a bowl.
Prepare the sauce:
Combine soy sauce, sesame oil, 2 tablespoons mushroom soaking water, minced ginger, white pepper, and crushed red pepper in a bowl and whisk to combine. Set aside.
Make the fried rice:
Heat 3 tablespoons oil in a large wok or skillet over medium-high heat. Add the sliced baby bella mushrooms and cook, turning occasionally, for 8–10 minutes until golden brown.

Add the bowl of diced vegetables (scallions, onion, pepper, and carrots) to the wok with the mushrooms and season lightly with salt. Cook, turning often, for 3–5 minutes until the carrots soften and the onions are translucent.

Add the diced shiitake mushrooms and cook for 1 minute.

Add the cooked rice to the wok and break it up with a metal spatula. Turn regularly, being careful not to mush up the rice too much. It should make good contact with the skillet or wok. Cook the rice for 5 minutes until it crisps up in spots.

Make a well in the middle of the rice. Pour in the sauce and use your spatula to toss the rice in the sauce for 1–3 minutes until well-coated. Stir in green scallion parts and cook for 1 minute. Turn off the heat.
To serve:
Divide the fried rice between shallow bowls and serve the remaining scallion greens on top. Enjoy!
Recipe notes
*If you don't have day-old rice, make 3 cups cooked rice from 1 cup dry. Rinse 1 cup of dry rice and combine with 2 cups water and a few shakes of salt in a small pot. Bring to a boil, stir once, cover, and simmer on low heat for 15 minutes. Turn off the heat and let stand for 5–10 minutes. Transfer to a sheet pan or pour into a large bowl and spread into an even layer (up the sides of the bowl if not using a sheet pan). Transfer to freezer for 15 minutes.
Nutrition
Calories:
285
kcal
|
Carbohydrates:
39
g
|
Protein:
7
g
|
Fat:
12
g
|
Saturated Fat:
2
g
|
Sodium:
824
mg
|
Fiber:
2
g
|
Sugar:
2
g