This easy pasta alla norma is a yummy take on pasta with crispy eggplant. Serve it with orecchiette and simple marinara for a delish dinner!
I don't dislike too many ingredients, but eggplant is very much at the bottom of the list of vegetables I like. However, when I was in Rome, I visited Tram Tram and fell in love with the orecchiette alla norma. It's not on the menu currently, but it was orecchiette in a gorgeous red sauce and topped with small pieces of pan-fried eggplant. It was then topped with grated ricotta salata (the traditional way to serve pasta alla norma!). For this vegan recipe, the cheese is omitted and honestly, wasn't even needed!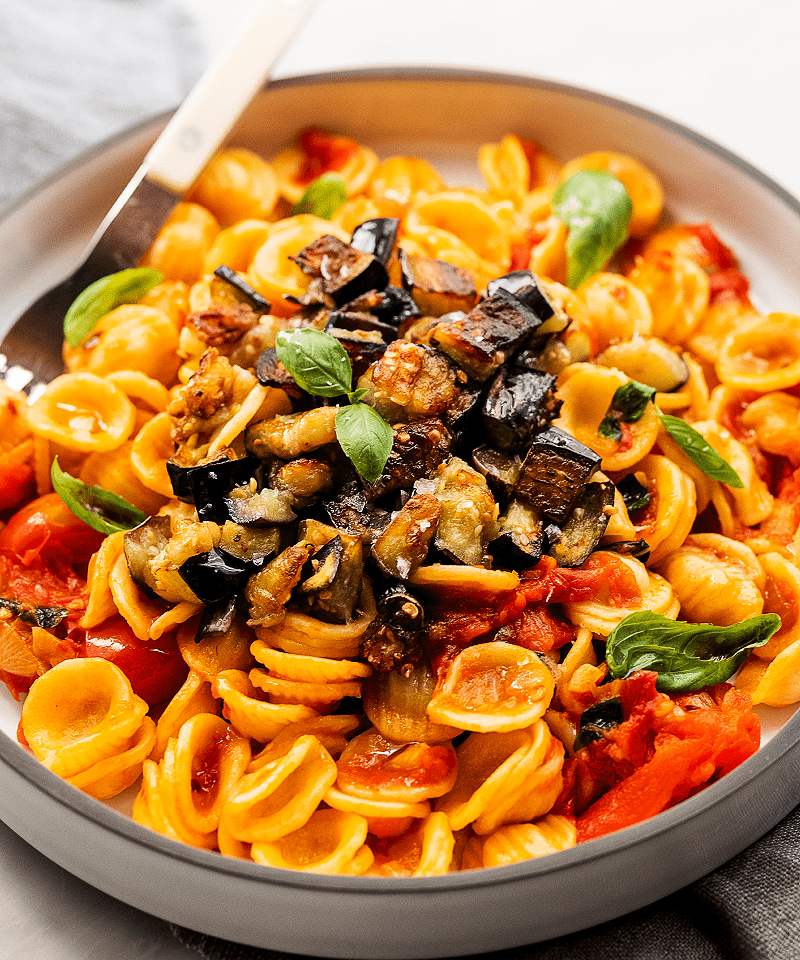 How to make this easy pasta alla norma with crispy eggplant:
The key to pasta alla norma is the crispy eggplant. I loved Tram Tram's approach to small-dicing the eggplant since I'm not a huge eggplant fan.
First, prepare a simple red sauce. I used hand-crushed Roma tomatoes but you can omit that step and use a 28-ounce can of whole-peeled or crushed tomatoes. I also added plenty of garlic, crushed red pepper, and I finished the sauce with fresh basil.
If you decide to hand-crush your tomatoes, you can reuse the boiling water to cook your orecchiette, so don't discard it!
For the eggplant, you can follow the Ottolenghi approach to peeling which involves alternating peeling off strips so the eggplant ends up looking like a zebra. Or, you can follow the Tram Tram (and my) approach and leave the skin on completely. Since the eggplant will be small-diced, you won't need to worry as much about long strips of skin coming off in your pasta.
Simply trim the eggplant and slice it once down the middle so you have two halves. For each half, slice it 4-5 times lengthwise and then dice it cross-wise into bite-sized pieces. If your eggplant is quite large, slice it into thirds instead of halves first.
Throw the diced eggplant into a sieve and season liberally with salt to draw out the water. Allow the eggplant to set out for 30 minutes before patting dry thoroughly with paper towels.
After your pasta has cooked, simply pan-fry the eggplant in batches in a bit of oil over high heat. Once the eggplant caramelizes and crisps up, transfer to a paper towel-lined plate.
Pile the crispy eggplant on each bowl of orecchiette and garnish with more basil if you like.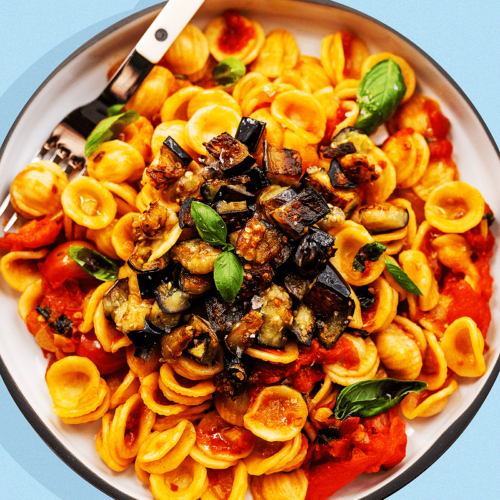 Easy Pasta alla Norma
This easy pasta alla norma is a yummy take on pasta with crispy eggplant. Serve it with orecchiette and simple marinara for a delish dinner!
PRINT
PIN
Equipment
Wide pot

Large pot

Skillet

Sieve
Ingredients
¾

pound

eggplant,

trimmed and small-diced

2

pounds

Roma tomatoes,

or use 28-ounce canned tomatoes

1

tablespoon

extra virgin olive oil

1

yellow onion,

peeled and diced

10

cloves

garlic,

peeled and minced

½

teaspoon

crushed red pepper,

more to taste if desired

2

tablespoons

plant-based butter

1

pint

cherry tomatoes,

optional

16

ounces

orecchiette,

or pasta or choice

2

tablespoons

avocado oil,

plus more if needed

15

fresh basil leaves,

plus more for garnish

Salt and pepper to taste
Instructions
Prepare the eggplant:
Transfer the diced eggplant to a sieve over a bowl and season liberally with salt. Set out at room temperature for 30 minutes as you prepare the rest of the ingredients.
Blanch the tomatoes (if using fresh tomatoes):
Bring a large pot of water to a boil. Add the tomatoes and cook for 5 minutes until the skin splits. Transfer the tomatoes to an ice bath for 5 minutes. Once the tomatoes are cool enough to handle, remove the skins and the cores. Crush lightly with your hands and transfer to a bowl.
Prepare the sauce:
Heat 1 tablespoon extra virgin olive oil in a wide pot over medium heat. Add the onion and cook, stirring regularly, for 6-8 minutes until it begins to soften. Add the garlic and crushed red pepper and cook for 1 minute until fragrant.
Simmer the sauce:
Melt the butter into the garlic and onions. Once frothy, add the crushed tomatoes and mash lightly with a wooden spoon. Season with salt and pepper. Add 1/4 cup of water and bring to a boil.

If using, add the cherry tomatoes to the sauce. Reduce heat and simmer for 35 minutes until reduced and thickened. Taste and season to your preferences.
Cook the pasta:
15 minutes before the sauce is finished, cook the pasta until al dente. Reserve ½ cup pasta cooking water and then drain the pasta.
Cook the eggplant:
While the pasta cooks, heat 2 tablespoons of avocado oil in a skillet. While you wait for the oil to heat, pat the eggplant dry thoroughly with paper towels.

Cook the eggplant in batches in the hot oil for 2-3 minutes per side, stirring occasionally, until browned and crispy all over. Adjust the heat as necessary to prevent the eggplant from burning. Carefully transfer the eggplant to a paper towel-lined plate.
Finish the sauce:
Lightly mash the cherry tomatoes and add the torn basil to the sauce. Immediately add the pasta and a few splashes of reserved pasta water and toss to coat the pasta with the sauce. Turn off the heat.
To serve:
Divide the pasta between shallow bowls and pile the hot eggplant on top. Garnish with more basil leaves, if desired. Enjoy!
Nutrition
Calories:
649
kcal
|
Carbohydrates:
106
g
|
Protein:
19
g
|
Fat:
18
g
|
Saturated Fat:
3
g
|
Sodium:
79
mg
|
Fiber:
10
g
|
Sugar:
16
g