EV's Take on Forager Project Dairy-free Sour Cream
The Forager Project brand has good intentions (and branding), but the flavor of some of their products—like their yogurt—don't live up to expectations. Unfortunately, their sour cream is another swing and a miss.
Forager crafts their sour cream alternative from coconut and cashew milk. If you're newer to vegan foods, note that many creamy and cheesy vegan products leverage cashews. When soaked and blended, they form an impressively rich base for whichever dairy product you might be replicating, which is the kind of food magic I had no idea existed before exploring vegan cuisine.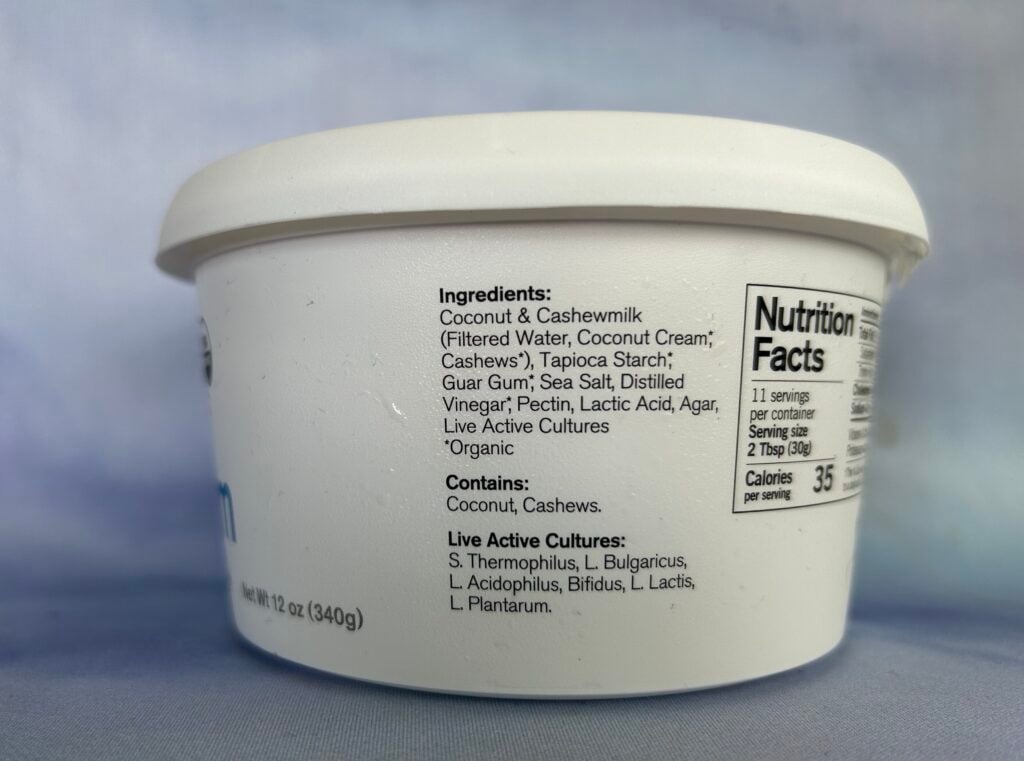 Forager Project's whole MO is cashews, with most of their products using these tropically grown snack nuts as a base. Why? The simple ingredient aligns with the brand's dedication to sustainability. According to their website, all their cashews are organically grown without added irrigation water and hand-picked on small farms, so the crop is better for both people and planet.
This dedication to responsible agriculture is really cool, which makes it especially difficult to admit that their sour cream just wasn't appetizing—on its own, at least.
Upon first opening the container, I was hit with a sour smell stronger than I'm used to with dairy and other vegan sour creams. It reminded me more of spoiled food than a tangy treat.
Their packaging instructed me to "stir it up," and I obliged. Good thing they told me, otherwise I would have been confused by the clumpiness of the mixture. It took a good 30 seconds of rapid whisking to fully blend the sour cream and remove clumps. That said, it looked lovely once it reached a smooth consistency.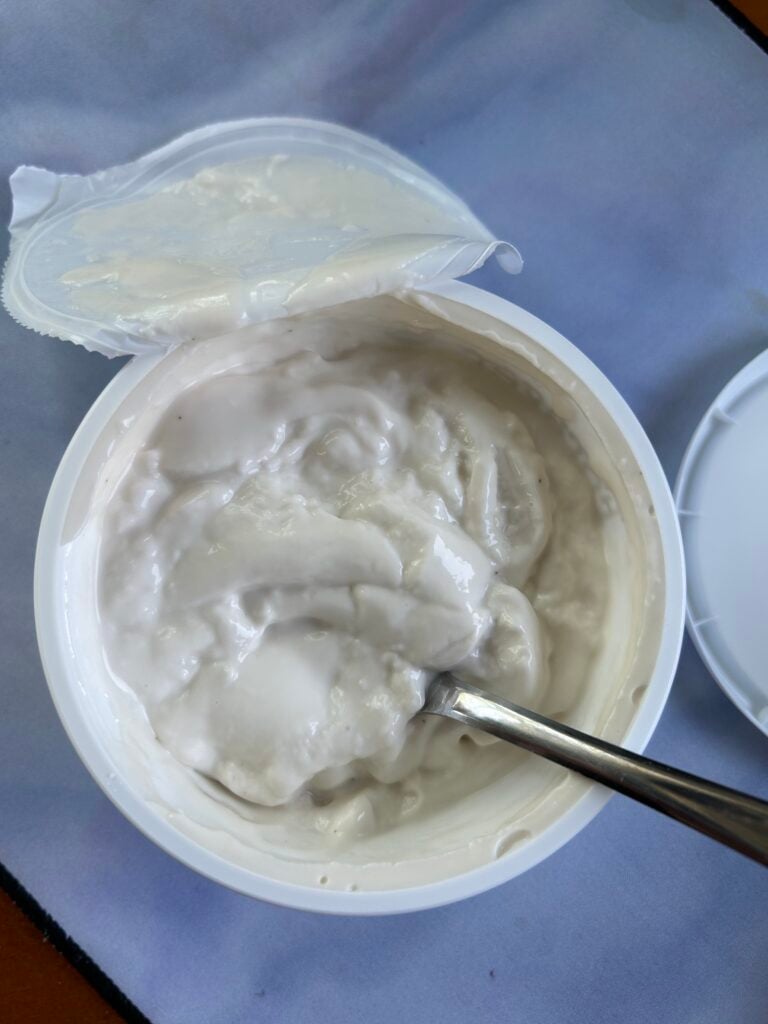 Finally, it was time for the tortilla chip test. Given the more watery consistency, I was afraid the dip would slide right off my chip. It gripped on better than I expected, but didn't allow me to heft a thick, creamy dollop onto my chip.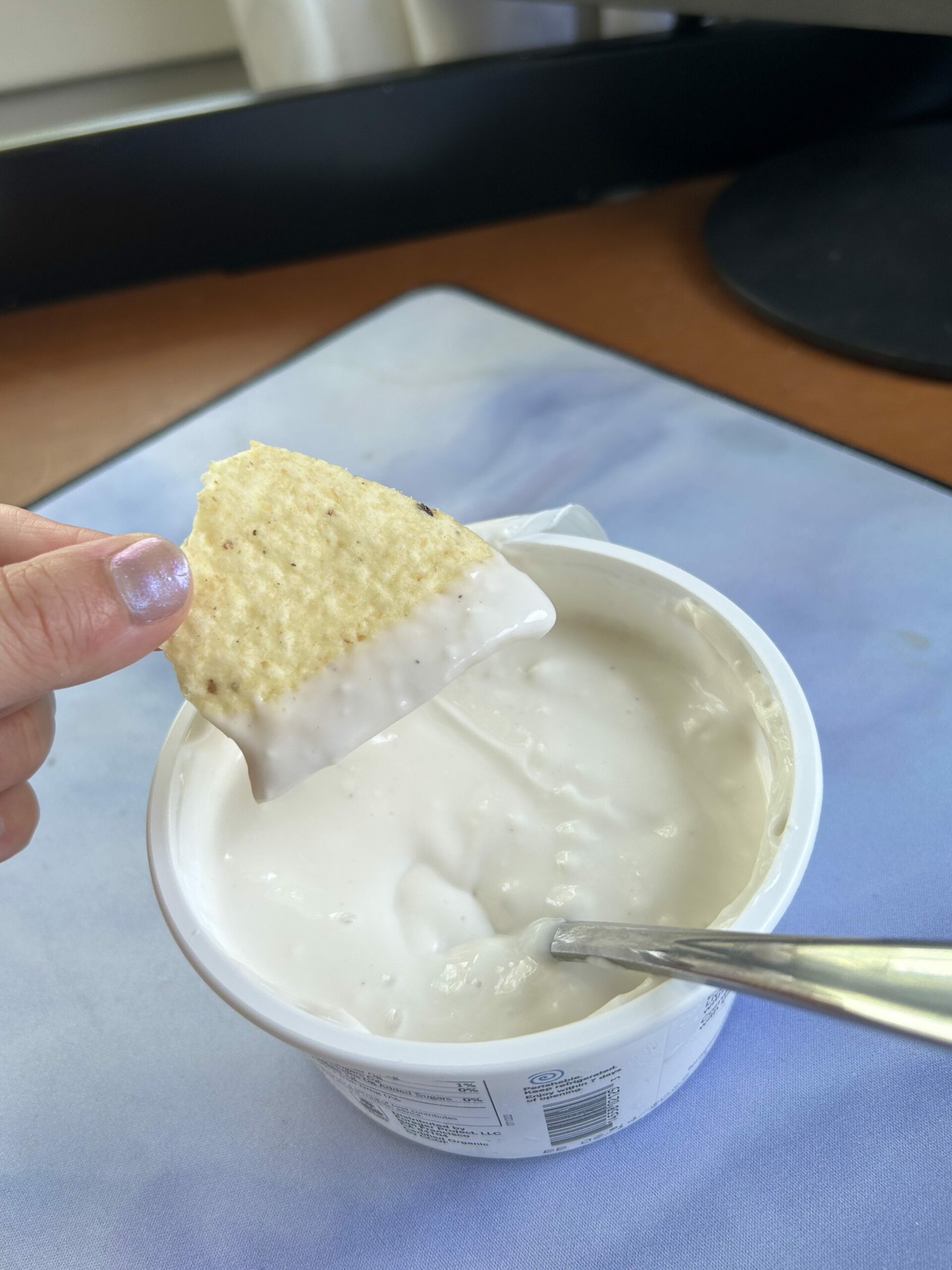 The taste of the sour cream on its own was about as sour as its initial smell, and that was a little too much for me. Perhaps some people like extra-sour sour cream? But I personally prefer a light tang and a rich creamy texture, and Forager's sour cream replacement did not deliver on that.
While it was cool and refreshing on my salty corn chip, it merely sufficed, but wasn't great. If I were craving sour cream with my tacos or chili, I would eat this if it was my only option. But I certainly wouldn't indulge in it. For me, Kite Hill's sour cream simply performed better across the board.
I wasn't ready to give up on Forager sour cream, though. Afterall, I had a whole 12-oz tub in my possession. I could have stirred in a dip mix or my own spice blend—and I think that would improve this product significantly (let us know if you try this in the comments). But instead, I did what I often do with bland, leftover ingredients: add lots of sugar and fat to them and stick them in the oven.
Can You Use Forager Project Sour Cream for Baking?
Finally, some good news: Yes!
And even better, the results were good, y'all.
Their website says to use their product as a "1:1 sour cream substitute in all of your everyday cooking and baking." If you're using it as a vegan replacement in a non-vegan recipe, though, you may have to do some trial and error since it's not as dense as dairy sour cream and could behave differently.
Since I'm hesitant about the flavor and texture, I decided to pull from one of Forager's own recipes, instead of a random dairy-reliant recipe, to see how this sour cream performs when given the best possible chance. I came across their coffee cake recipe—a baked good in which sour cream often plays a starring role.
And, to my pleasant surprise, Forager's dairy-free sour cream did exactly what it needed to in this coffee cake. It created an incredibly moist, but still somewhat fluffy and tender cake. The overwhelming sourness of the cream was finally balanced by warm cinnamon sugar streusel and sweet, vanilla-touched batter. I actually can't stop eating it.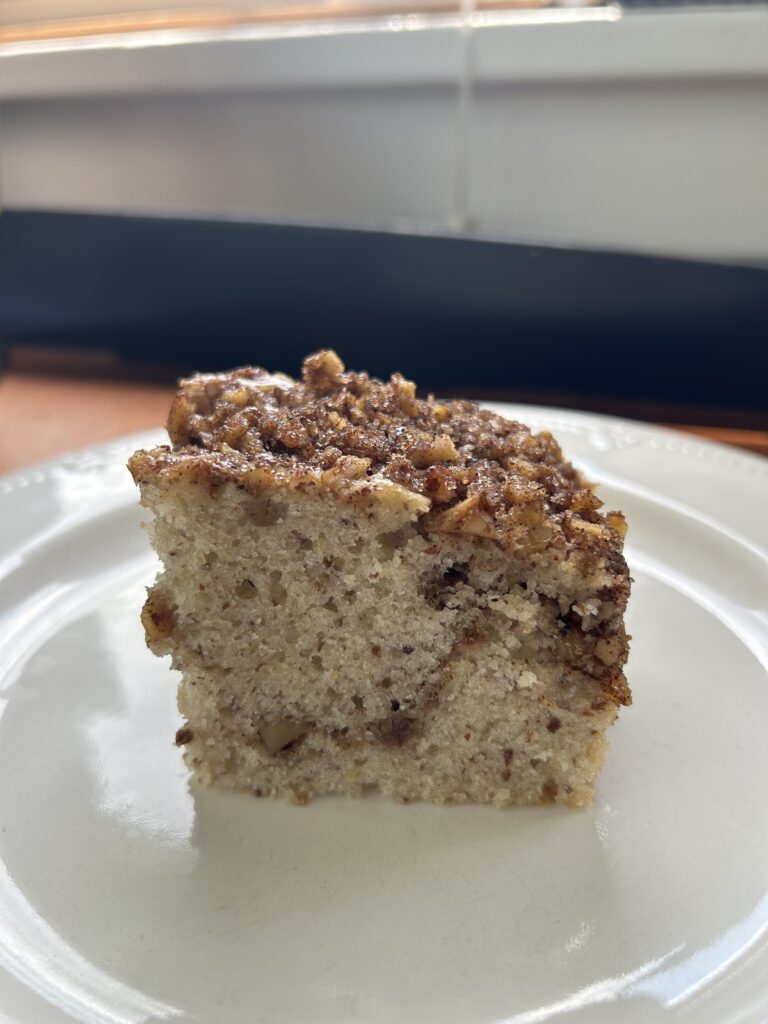 While Forager Project sour cream isn't my favorite as a topping or dip, it's a relief to see that it can do some heavy lifting in the baking department. If I were just rating this coffee cake recipe, I'd easily give it 5/5 stars.
Is Forager's Vegan Sour Cream Alternative Healthy?
This depends on your personal health goals. Forager sour cream is not necessarily nutritious, but is relatively light in calories and fats when compared to dairy sour cream and other vegan sour cream brands.
A two tablespoon serving contains just 35 calories and 2.5 grams of fat. Like most plant-based foods, it has absolutely no cholesterol. If you're looking for an organic, lighter option with simple ingredients, Forager sour cream may be the one for you—or at least for your baked goods!
Where to Buy Forager Sour Cream
Forager has made inroads at many grocery stores across the U.S., which is impressive for a plant-based company only about ten years old. Stores where you can find Forager products include:
Kroger
Publix
Sprouts
Whole Foods
Walmart
Safeway
Wegmans
Hannaford
To see where their vegan sour cream might be available near you, use their store locator.