EV's Take on Abbot's Butcher Plant-based "Chorizo"
Founded in 2016 and relatively new to big-box stores, Abbot's Butcher is a plant-based and vegan meat brand with ground plant meats ready to add into your tortillas, wraps, salads and more. They have two flavors of vegan chicken crumbles and a ground beef, but I decided to put their "chorizo" to the test.
Am I a seasoned chorizo eater? Or a connoisseur of authentic Mexican and Spanish food? Absolutely not. But I have, in fact, worked at Taco Bell, and later at a local Mexican-ish restaurant. So I've stirred the beans, served the chips, spilled lots of guac on myself—and eaten real-meat chorizo in my day.
Given my experience, I can confidently say that Abbot's Butcher chorizo is very satisfying, savory and meaty, making it a worthy main player in your burritos or vegan chilaquiles (hint: check out our Just Egg review).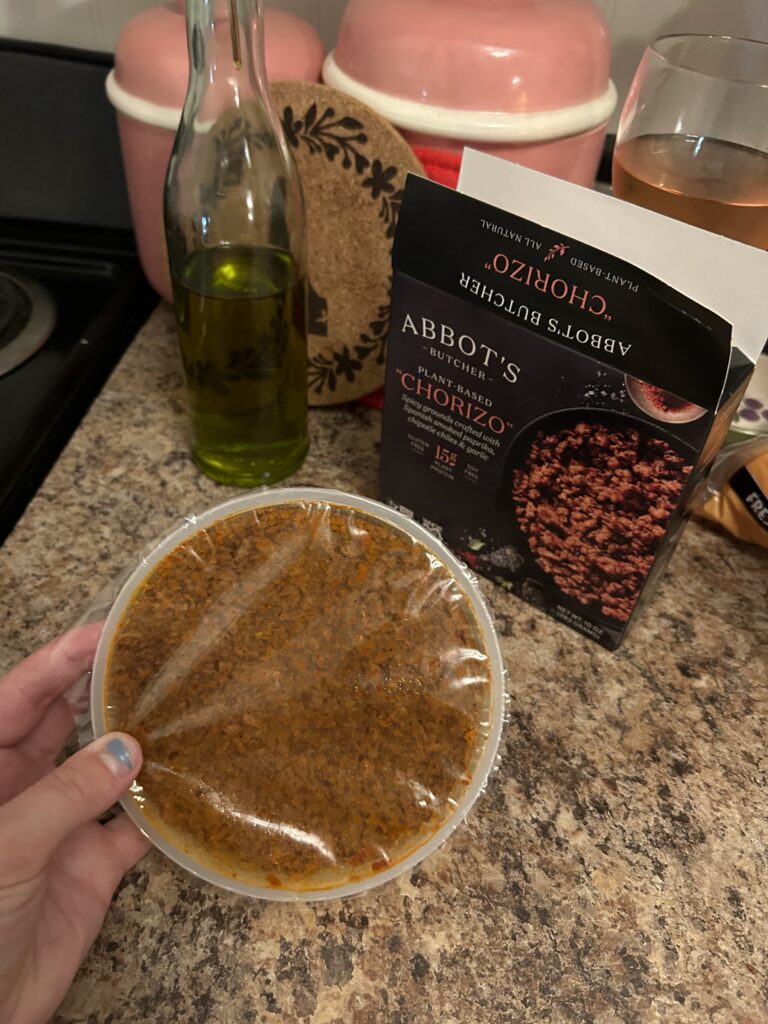 What Is Chorizo?
But let's back this up a bit. What's all the hype around chorizo? After all, there are so many vegan versions of the meat, with multiple brands of "soyrizo" on grocery shelves and in authentic Mexican kitchens.
OG chorizo is a pork sausage hailing from Spain and Portugal. It is traditionally cured and dried, so it can be eaten without being cooked, like salami or pepperoni. The sausage gains its red appearance and smoky-spicy flavor from various spices, depending on the recipe: dried red peppers, smoked paprika, chiles and more.
While still heavily spiced, Mexican chorizo differs from Spanish chorizo in that it is raw and must be cooked first. When cooked, it crisps up and becomes crumbly, making it perfect for tacos. Sometimes it's still sold in sausage links, but even then, it's typically intended to be broken apart and cooked in ground crumbles.
What Is Abbot's Butcher Chorizo Made Of?
Unlike the original pork sausage, Abbot's Butcher chorizo uses pea protein to form its meat-textured bites and relies largely on tomato paste, onion powder and chili powder for its flavor. I think this combination of ingredients lends well to the brand's "chorizo," making it a little meatier in texture than soy-based vegan chorizo, and probably closest to Mexican versions of the meat.
And because of its plant-based vegetable ingredients, it's a great option for people with soy allergies as well as those avoiding pork.
Note that Abbot's Butcher chorizo already has extra virgin olive oil in it, which lends to its crispier texture when well cooked. You don't need to add much of your own to the pan, especially if you're trying to make this a leaner meal.
Is Abbot's Butcher Vegan Chorizo Healthy?
At Exploring Vegan, we believe that you decide what is healthiest for you. Everyone has different dietary needs, so labeling something either healthy or not can be an oversimplification.
That said, I find it helpful (and interesting) to compare plant-based foods with their animal-product counterparts. If you need a reason to go vegan, health may be one of them. And pork sausage is fattier and more caloric than Abbot's Butcher's plant-based imitation. Additionally, their pea protein chorizo substitute still packs a whopping 15 grams of protein per serving.
Abbot's Butcher chorizo is also Whole30-approved. If you're interested in a whole foods diet, strictly following the Whole30 diet, or just trying to eat fewer processed foods, this is one of your options.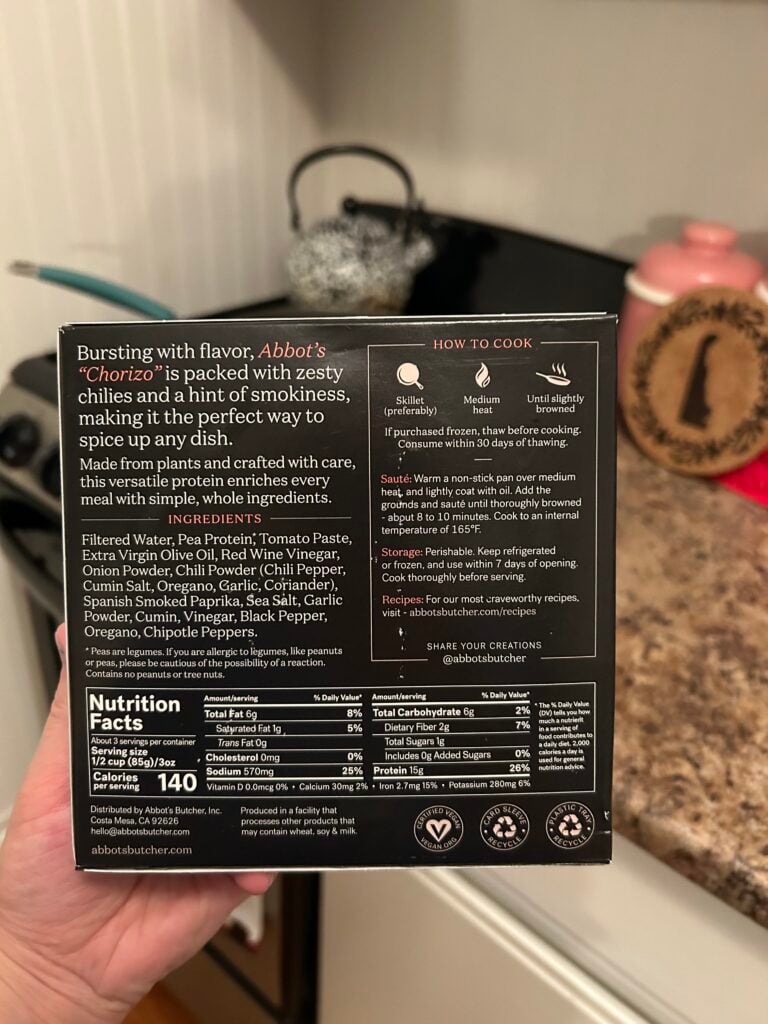 Where Can I Buy Abbot's Butcher Vegan Chorizo?
After lots of searching, I learned that Target is the only store near me that carries Abbot's Butcher. The plant-based brand's website lists a variety of big-box and smaller, "natural" grocery stores where they sell, including Whole Foods, but they weren't available in my local Whole Foods in Buffalo. Other large grocers that carry Abbot's Butcher include Sprouts and The Fresh Market.
Though I don't usually grocery shop at Target, it's certainly exciting—and convenient—to find novelty vegan foods there. It also shows how far plant-based eating has come, with the global retailer offering not only Abbot's Butcher but a number of vegan foods across its aisles. If you need a pseudo-stylish $10 floor lamp and you're hungry for tacos, Tarzjay is the place for you.
How to Cook Abbot's Butcher Vegan Chorizo
The package says to heat your pan, lightly coat with oil and saute the grounds "until thoroughly browned—about 8 to 10 minutes."
Cooking this faux meat is in no way difficult, but as with any new product, one usually has some hesitations. First off, the "meat" was already brown, so how would I know it was done? Luckily, I know at this point that one of the great things about cooking vegan meats is that you don't have to worry about them as much as real meat. Plant-based products are generally much less perishable than animal products and have a longer shelf (or fridge) life.
Still, I wanted this stuff to taste good. I cooked it for 8 minutes with some intermittent stirs, and it still didn't seem 'browner' or crispy to me. I enjoy a bit of a sear on my meats—or anything I'm putting in a frying pan—so I decided to cook it longer.
I ended up cooking the chorizo past the recommended 10 minutes—closer to 12-14 minutes instead. The result was further browned, ever so slightly crispy crumbles that were exactly to my liking. I'm sure the chorizo would taste good if cooked less, but I love a more firm, almost crunchy texture in my protein to balance out the softer and more moist taco ingredients.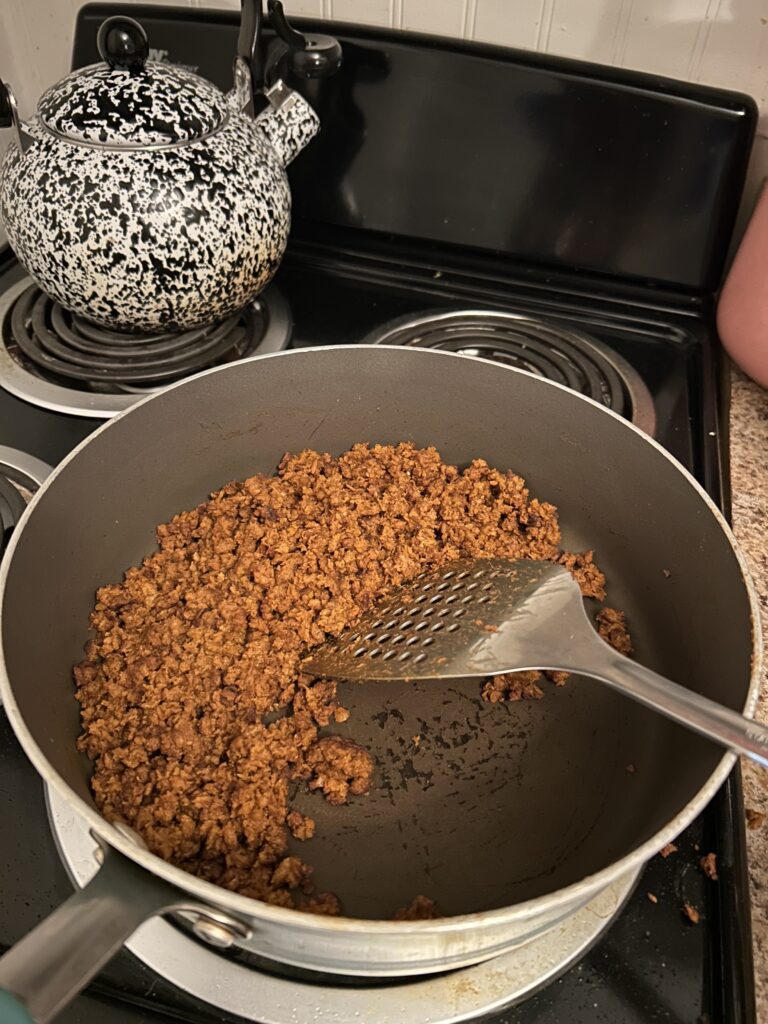 The End Result
To my great joy, this vegan chorizo performed exceptionally in my weeknight tacos. A soft corn tortilla shell, fresh lettuce and tomato and a cool non-dairy sour cream perfectly balanced the meat's crispiness and subtly piquant kick.
So yes, Abbot's Butcher plant-based chorizo is worth a try—and may just become your new Taco Tuesday staple.