Vegan Bean Recipes = Your New Best Friend
Hey everyone, why are canned beans still boring?
While chickpeas are now featured on $15 dollar salads and upscale dining menus, the canned bean aisle of the grocery store still screams "bleh." Dried beans have become more popular than ever, with Rancho Gordo at the helm, boasting a two-year waitlist for their exclusive bean club. I mean, even Padma Lakshmi was begging to get in on the action.
So why do canned beans still conjure up images of mushy meals and boring soups? It may come down to the unappealing sauces, dearth of flavor and utilitarian packaging.
But what if I told you that beans—canned or dry—are your best friend as a vegan food explorer? The benefits of beans are myriad: they're widely accessible, affordable, nutrient-rich, protein-packed and deeply satiating. They can be tossed into so many different meals and added as a side on any plate. They're a plant-based eater's perfect unprocessed meat replacement; after all, they're the building blocks of tofu!
As you continue venturing into vegan food, it's my hope—and certainly Heyday's—that you discover the power of these basic legumes.
How Heyday Is Changing the Bean Game
Many equate "canned beans" with "boring." But Heyday has made it their mission to change that. They've taken the readily available, simple to cook, healthy products and prepared them in flavorful sauces so dinner is ready right in the can. Think spaghetti-o's, but make it vegan and way better tasting.
Cheaper, traditional canned beans require cooking and crafting homemade sauces for flavor, which can be difficult and time-consuming. Even if you're like me and love trying new recipes, we all have days when our schedules don't allow us to cook dinner from scratch—or at all!
Heyday helps you skip a lot of the hard work and get a heat-and-eat dish with perfected flavor and texture. They were nice enough to send me a box of all their varieties, so let's go through each can, flavor by flavor.
Kimchi Sesame Navy Beans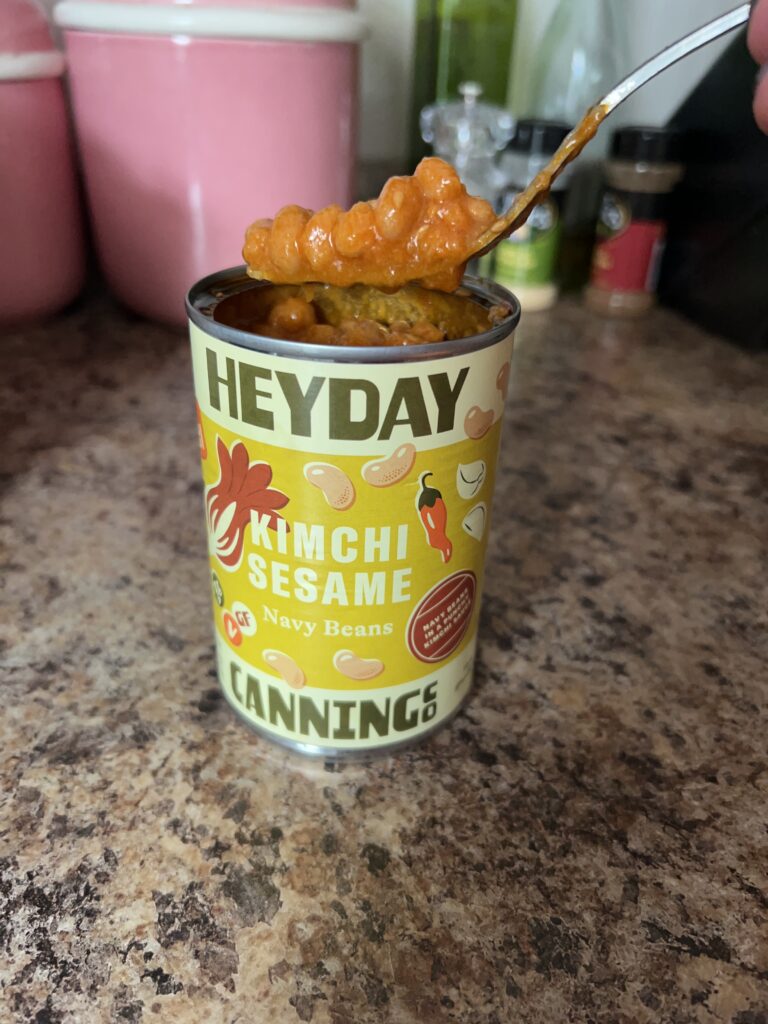 Let's get right to the good stuff. I loved this flavor the most, even though I was a little hesitant since I'm not super familiar with kimchi. I envisioned it as a can of soupy relish and beans, which did not sound tasty.
However, upon cracking open the can, I saw the "kimchi" is more of a sauce, made thick and substantial with pureed vegetables. It has a kick but is not overly spicy (trust me, I'm not great with heat). There was a subtle sweetness and garlicky bite to it, which helped balance the spice and made for a wonderful aroma and complex taste.
Heyday's website recommends simply adding noodles to these beans, whether you have udon or fettuccini on hand. I think they would also make a satisfying meal simply piled on rice. I was so pleased by the flavor, though, I ate them straight out of the can.
This is one of Heyday's more unique offerings, in terms of flavor and relative to what's on most grocery shelves. Given the double whammy of convenience and novelty, I would totally buy this can again and again.
Coconut Curry Chickpeas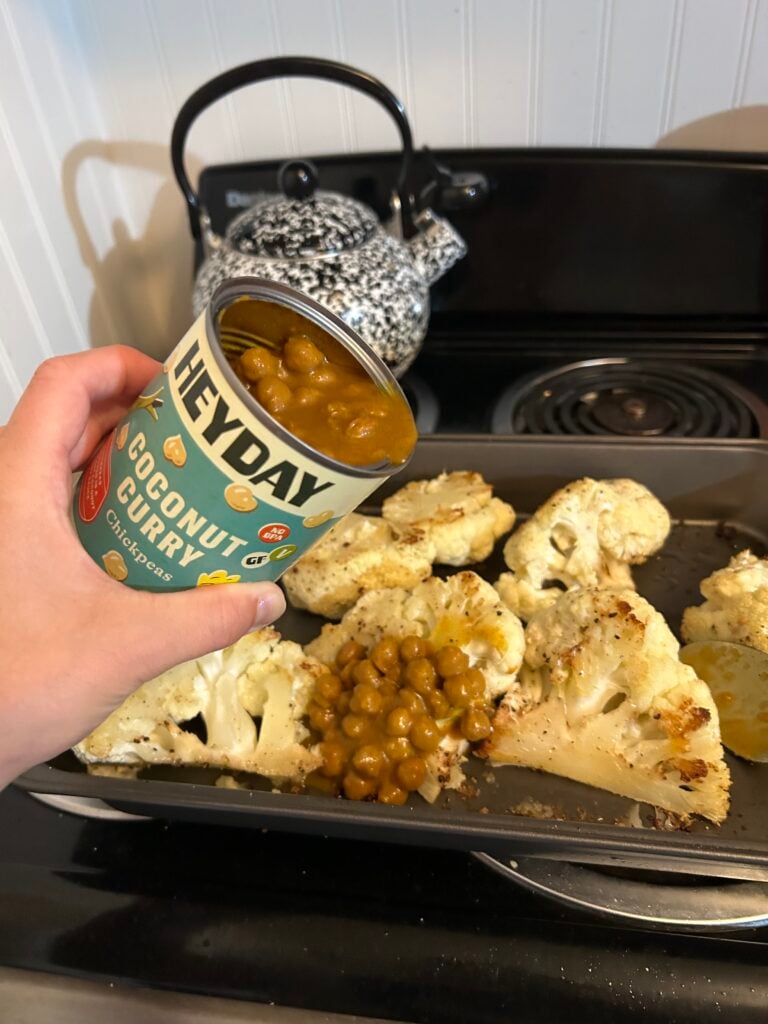 Heyday describes this can as "a nod to delectable Malaysian curries, featuring heaps of aromatic ginger, lemongrass, and warm spices." And they aren't exaggerating. The second I opened this can my nose was met with an aroma reminiscent of comforting stews, creamy bisques and, oddly, Christmas—the scent had notes of chai and gingerbread spices!
That said, this curry is more creamy than sweet, and plenty savory. Heyday recommends pairing it with jasmine rice, naan (or any flatbread) and cauliflower. I ended up following a simple recipe on their website for pan-roasted cauliflower with the curry.
It turned out great, especially with an extra squeeze of lime, and was very filling. But the kicker was that I had a meal exactly like this—a chickpea and cauliflower curry—at a restaurant the week prior that cost $30. This restaurant's curry was great too, but Heyday's can goes to show that simple, delicious vegan entrees do not have to be expensive or exclusive to fancy restaurants! I made a just-as-tasty version at home in 30 minutes (most of that baking time) for maybe $10, tops.
An affordable, restaurant-quality meal in this economy? I'd say that's a darn good investment.
Harissa Lemon Chickpeas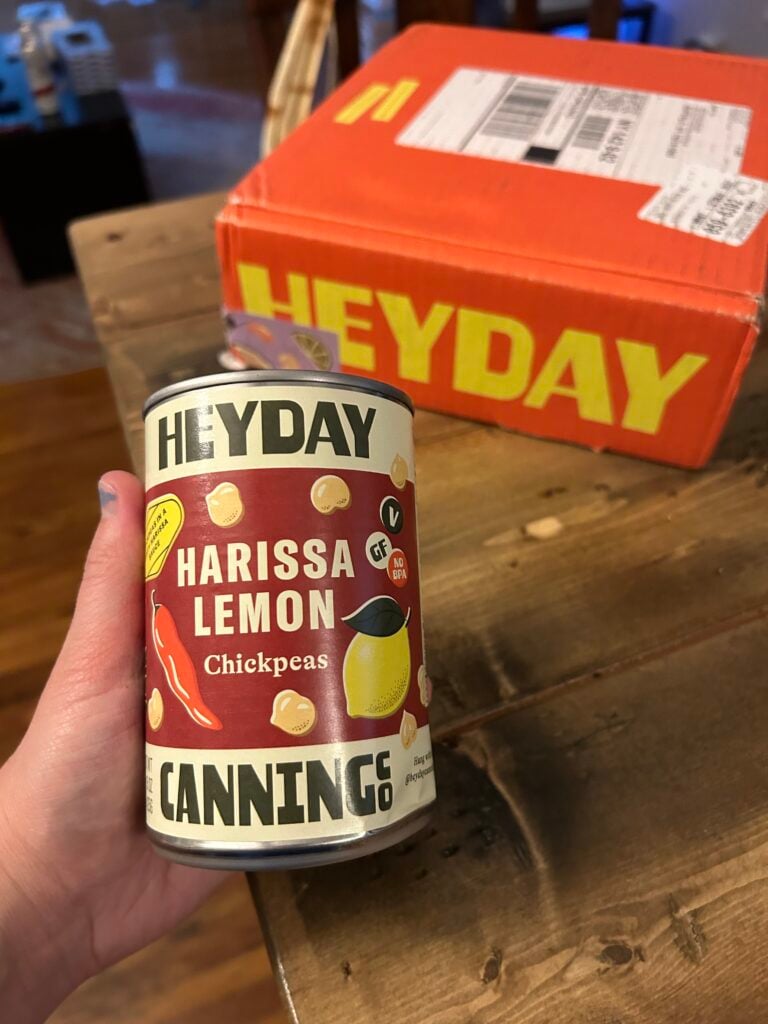 These garbanzos have a Mediterranean flair, which made me so excited to try them on one of my big, fat Greek dinner salads.
This sauce was thinner than the others and had a hint of smokiness that I wasn't expecting, so I didn't love eating these out of the can as much. It was also more savory than sweet, without much of the citrus notes coming through the deep-red paste.
They were good, though. I often add chickpeas to salads to vary the texture and increase protein, so that's what I decided to do with these. In retrospect, they were a bit too saucy for a salad. I would, however, like to try them crisped up in the oven and added on top of a leafy base.
One of Heyday's recipes recommends using a portion of the sauce separate from the chickpeas to make a salad dressing. I actually dipped oven-baked fries in some separated sauce—that was delicious. Additionally, I imagine you could pour this can of beans in a blender and make a great hummus, presto. There are many places you could go with these beans. Choose your own adventure.
Enchilada Black Beans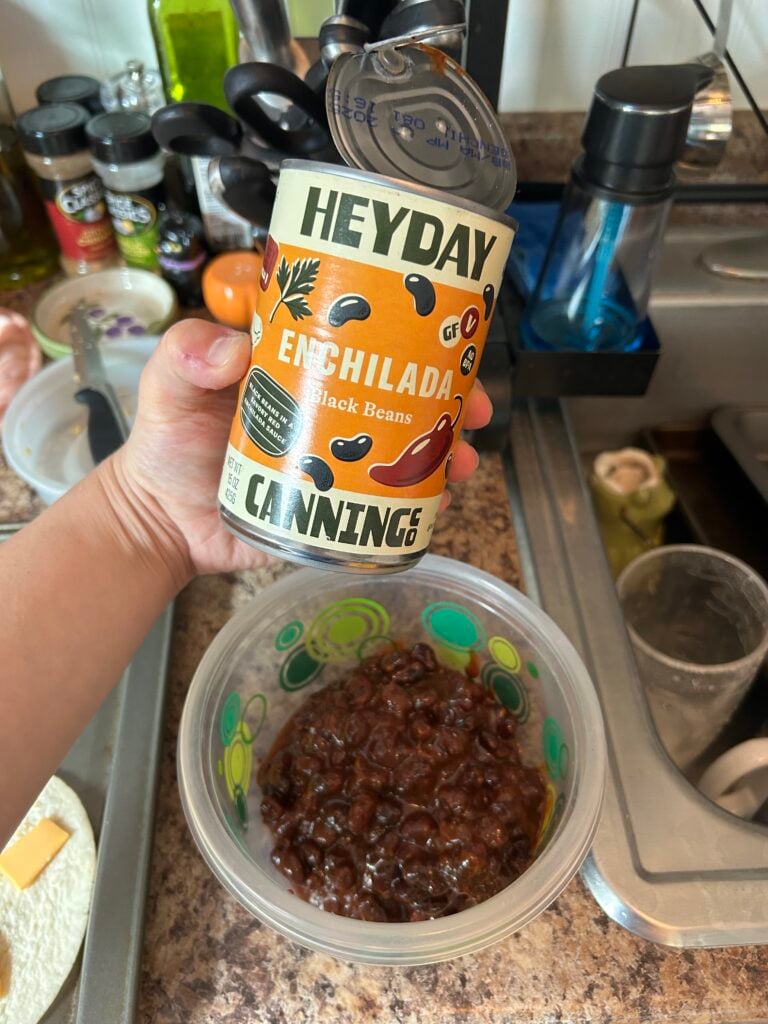 Alas, my favorite bean. I never tire of black beans with any Mexican dish—even when they're from a generic can. So I was super happy to get my hands on a can of black beans that already had savory, spicy Mexican-style sauce accompanying them.
I love tossing together Mexican staples at home, but the reality is that my renditions usually end up bland, featuring unadorned, microwaved beans. Heyday's enchilada-style mixture added a lot more oomph to my tacos and tostadas. As with the coconut curry can, they brought my quick home-cooked meals up to restaurant quality. They also weren't overly spicy.
Once again, Heyday won me over with convenience and flavor. I'll keep buying regular canned black beans, but I'll reach for Heyday's version for a nicer meal. I'd love to try putting these in actual enchiladas!
Apricot Glazed Baked Beans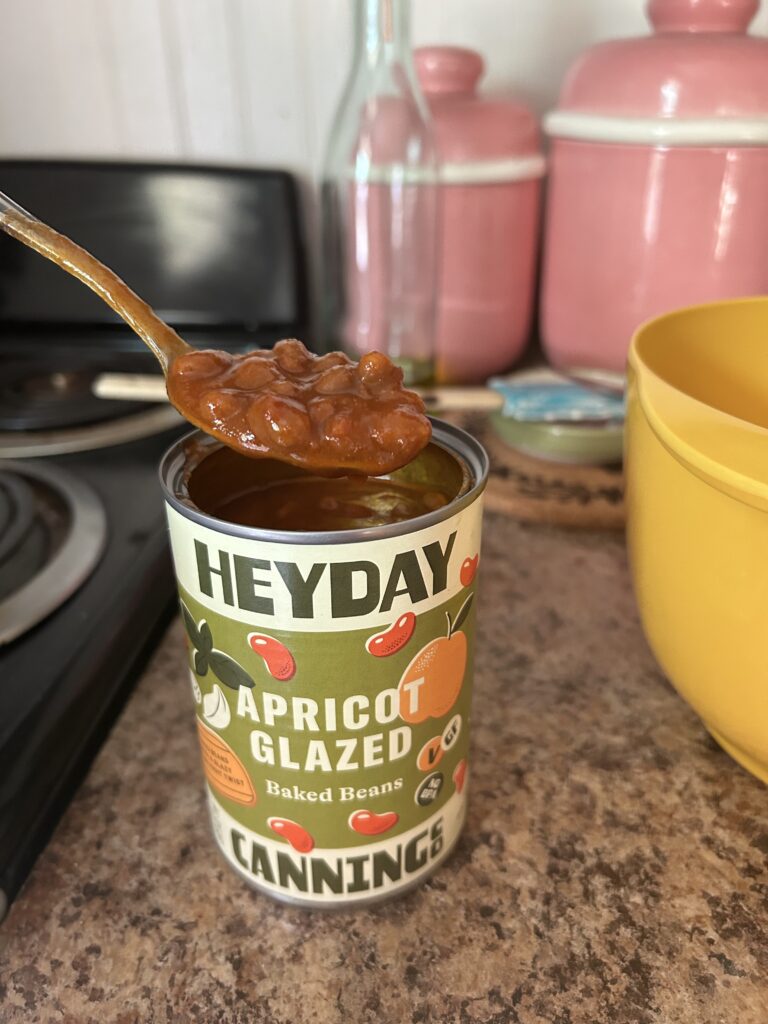 This can is Heyday's version of classic baked beans. Despite having apricot second on the ingredient list and in the name, these beans are more tangy than sweet and are still loaded with savory BBQ flavor (tomato, paprika, garlic and onion… mmmm). They were good on a hamburger bun, per the recipe recommendation, but I thought they were even better alongside some creamy coleslaw. All of these flavors come together perfectly for an easy and spot-on picnic plate.
My only hesitation about this can is that there are other canned baked beans out there that cost much less. Though Heyday has successfully added their own fruity spin on the summery staple, I'd be just as happy with Bush's maple beans next to my pulled jackfruit sandwich.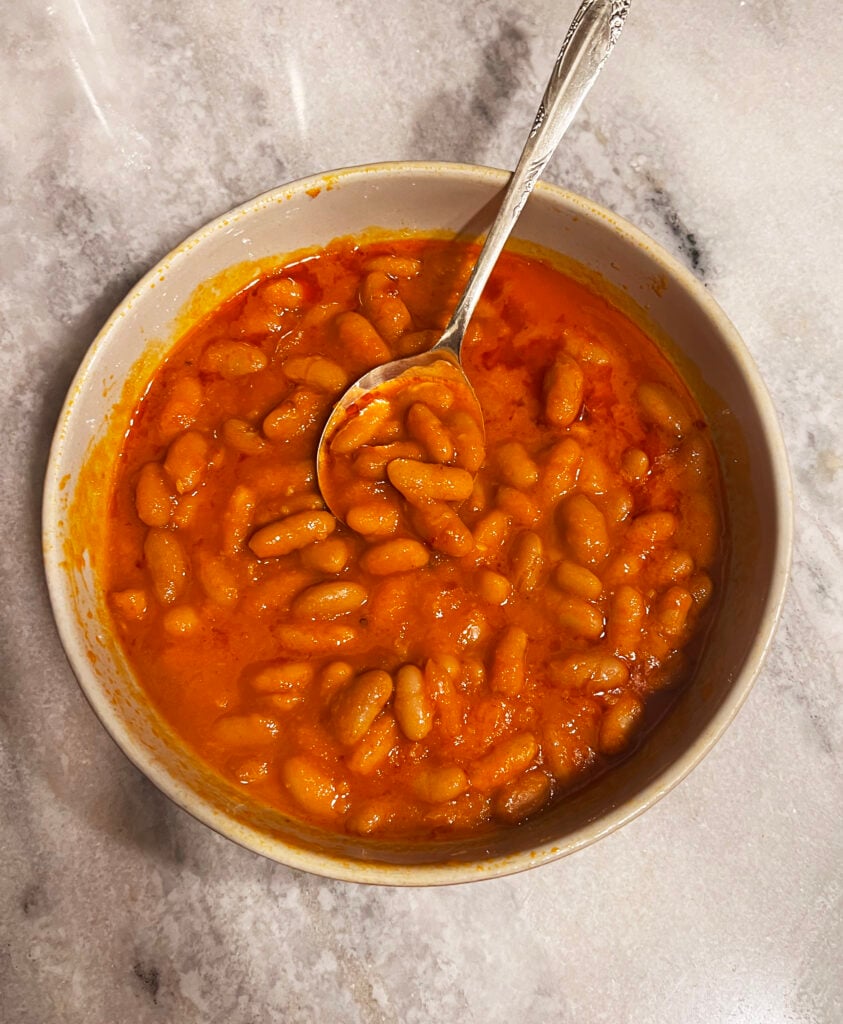 Tomato Alla Vodka Cannellini Beans
Mamma mia! Is there anything more comforting than pasta alla vodka? Because beans alla vodka is pretty darn close. While Heyday offers tons of recipe ideas for this can on their website, sometimes I like to march to the beat of my own drum. And sometimes that drum tells me to eat beans straight from the can. Okay, I microwaved them first. The verdict? I loved them—for the most part.
Heyday promises a "supremely creamy" vegan vodka sauce that even Nonna wouldn't know was made sans heavy cream. And the creaminess was on-point. I have to deduct a few points, though, because of the very oily sauce's hint of bitterness that came and went as I ate them. However, I think these aspects of the sauce would be tamed when mixed in with pasta.
Would these downsides deter me from buying another can to keep in my pantry? Absolutely not! This can is delicious and a perfect starting point for a quick bean and pasta dish or a hearty accompaniment to grilled eggplant.
I'm Hungry Now! Where Can I Buy Heyday?
I don't blame you. (Imagine what it's like writing this! I'm salivating.)
Make a quick run to your nearest Whole Foods or Sprouts to find your preferred flavor of Heyday beans.
If you're not near one of those stores, Heyday takes online orders and can ship cans to your home. However, this costs more money. With shipping, a 6-pack of cans would cost me $45. Personally, I can't justify paying $7.50 for a can of beans. But a Heyday can is a solid purchase if it's available near you.
Final Thoughts
Luckily before I became vegan, I already loved beans and was totally comfortable making them the star protein on my plate. But if you're not there yet—or aren't convinced—I would give Heyday a try.