EV's Take on Abbot's Butcher Plant-based Beef
Abbot's Butcher makes ground plant meats from simple ingredients, allowing home chefs to create plant-based versions of their favorite meals. They have two flavors of vegan chicken crumbles and a chorizo that I reviewed recently. But for this review, I'm sampling another vegan substitute for a much-loved meat: ground beef. 
If you are vegan, vegetarian, flexitarian—or just taking a peek into the plant-based world—you probably have your reasons for avoiding beef. There are so many different benefits of skipping the steak. Humane treatment of animals. Reduced carbon dioxide emissions. Heart-healthy diet choices. I'm sure there are more I'm not covering.
So when vegan meat brands like Abbot's Butcher release a delicious alternative to animal protein, it's easy to say, "Why not? I'll try it" given all of the good reasons to put it on your plate. And my official recommendation is, yes, do try it!
Abbot's Butcher focuses on using simple, whole food ingredients, and this is evident in their vegan ground beef. This product isn't trying to be a near-perfect imitation of beef, in the style of a Beyond or Impossible burger. Rather, Abbot's Butcher puts their own spin on the original: the veggie-ful flavors and slightly different texture are what makes their beef special—and really delicious. 
What Is Abbot's Butcher Beef Made Of?
Their beef is crafted in large part with porcini mushrooms. These create a warm, earthy aroma during cooking and deliver a juicy, meaty texture and umami flavor. The mushrooms and pea protein form a dynamic duo here, ensuring the crumbles have a chewy bite—not unlike meat, but not unlike hearty vegetables, either. And I love how this "beef" showcases the best of both worlds.
Pea protein is the first ingredient listed on the back of their ground beef package. This provides—you guessed it—a good serving of protein. A half-cup serving of their ground beef contains 18 grams of protein, which comes very close to real beef's 22 grams. 
After pea protein, Abbot's Butcher keeps their ingredient list pretty straightforward, with plant foods we all recognize like tomato paste, porcini mushrooms, onion and thyme. Extra virgin olive oil is in there too, which assists in crisping up your crumbles as they cook. You don't need to add much more oil to the pan, especially if you're trying to eat healthier.
Because of their less processed ingredients, Abbot's Butcher's beef alternative does have some nutritional advantages over cow's beef. The same amount of real beef has about double the fat, more calories and more cholesterol.
Wait, What Is Pea Protein?
If you keep seeing pea protein in plant-based foods and have no idea what it is, you're not alone. This ingredient has been somewhat of a mystery to me as a newer vegan. Essentially, amino acids—what protein is made up of—are extracted from yellow split peas and this is added to food as a powder or in a textured form. It's a natural source of fibrous plant protein that is easy to digest and enables those with soy or other allergies to enjoy plant-based meat substitutes.
How to Cook Abbot's Butcher Vegan Beef
The package says to heat your pan, lightly coat with oil and sauté the grounds "until thoroughly browned—about 8 to 10 minutes." This can seem strange at first, since the meat is already brown. But now that I've cooked the beef a few times, I know that 9 minutes does the trick. Once you hear the meat crisping and feel the rougher texture as you stir intermittently, you can take it off the heat.
For my very first time trying the beef, I simply sautéed and added the crumbles onto a pre-made salad for an extra easy dinner. I immediately loved the flavor and the meaty texture it added to my salad. Later, I used leftovers from that package to put together tacos. The plant-based meat was a great vegan replacement for real ground beef and was delicious on a warm tortilla with all the fixings.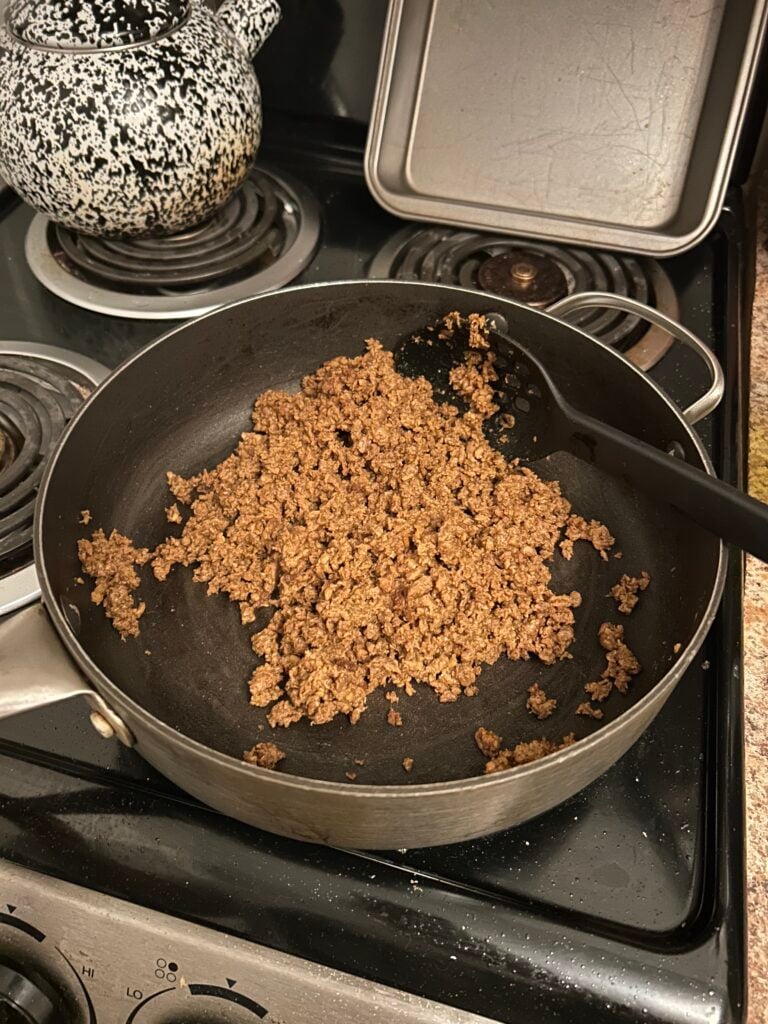 More Vegan "Beef" Recipes
Abbot's Butcher beef offers an exceptionally easy, quick way to add more flavor, chew and nutritional value to your meals. Besides tossing into your salad, another simple weeknight option is this chunky "beef" chili that tops off creamy baked potatoes.
Next on my list of meaty vegan meals? An incredibly satisfying pasta bolognese that made eating (mostly) healthy, whole foods feel decadent. While this review is not sponsored, Abbot's Butcher kindly sent me a little kit to put this Italian staple together, complete with their beef, a gluten-free fusilli and Rao's marinara!
The plant-based beef crumbles added even more flavor to the tomato sauce and made for a rich and hearty bolognese. Also, the pasta they sent me—Jovial's organic brown rice pasta—was the best gluten-free pasta I've had yet. I do not usually opt for gluten-free foods, so I was very impressed by the "real" pasta taste and texture. With some Wegmans shredded plant-based parmesan sprinkled on top, this was a meal to remember—and create again and again.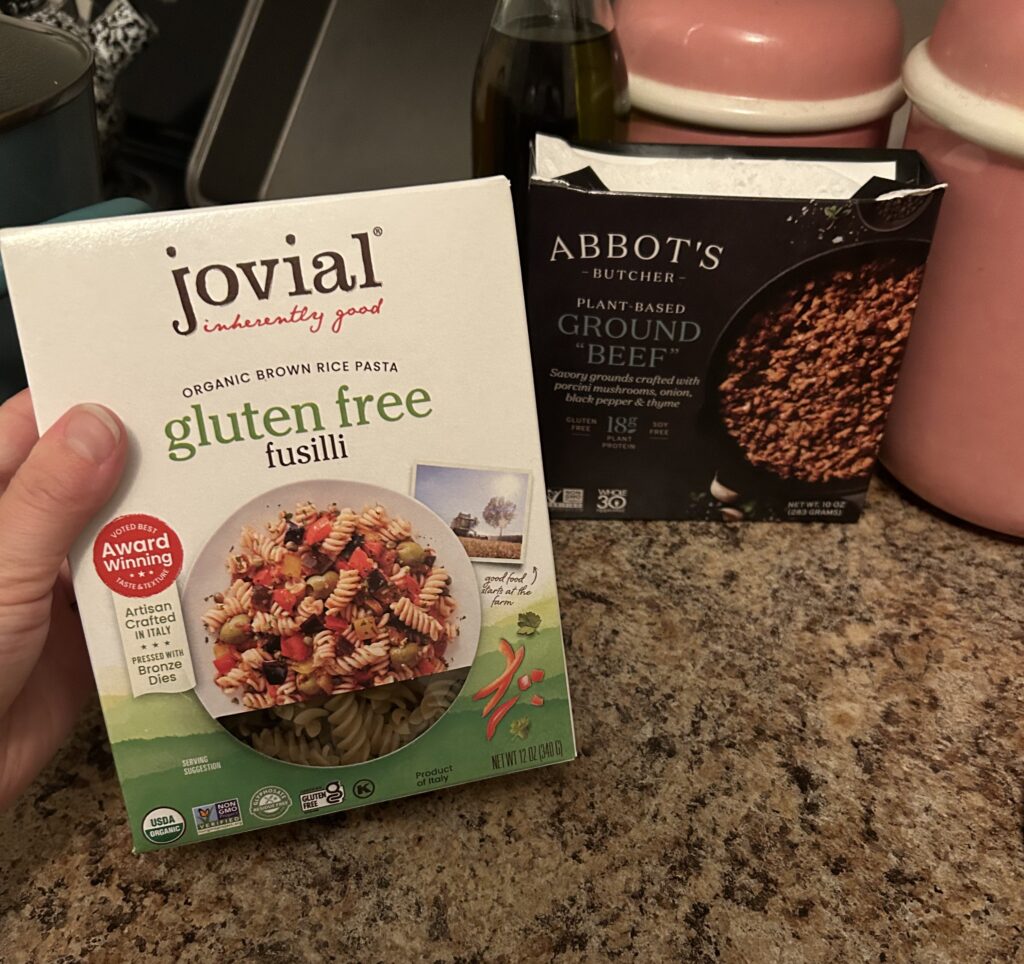 Where Can I Buy Abbot's Butcher Vegan Ground Beef?
Oh, you want to try it now? I had a feeling you would!
The only store near me that carries Abbot's Butcher is Target. But their products are available at a large variety of big-box and smaller grocery stores. Large grocers that carry them include Whole Foods, Sprouts and The Fresh Market. 
We hope you enjoy this vegan ground beef just as much as we did. Let us know what you create with it in the comments. Happy eating!