EV's Take on Kite Hill Vegan Ricotta Cheese Alternative
I have an alter ego. She is a Sicilian grandmother, and she inhabits my American, 29-year-old body when I'm cooking basically any pasta dish. 
She drinks limoncello, calls everyone "honey" and puts soooooooooo much cheese on EVERYTHING. She also takes it very personally if you don't eat her food.
Ok, ok—I don't actually go into full character. But I do find myself embodying the dedicated culinary spirit of these adorably ancient pasta grannies and my own little Italian grandmothers. Many of us have a special meal or unique delicacy that has a ton of emotional significance, reminding us of home, holidays, the people who once fed us. In a word, food conveys love. For me, those special foods are pasta and cheese, specifically my mom's ricotta-stuffed masterpiece: baked ziti.
So going vegan posed some issues when it came to eating cheesy homemade meals. But should avoiding animal products get in the way of love? Absolutely not. Instead, find plant-based ways to recreate the meals close to your heart. For example, on my vegan journey, I discovered cheese alternatives—and simply other ways to top my favorite foods (hint: nutritional yeast!).
There are a few plant-based ricotta cheese brands and alternatives out there. I've used Tofutti ricotta and made my own tofu ricotta to make baked ziti, and both were good. But for this review, I finally tried Kite Hill vegan ricotta cheese, and I was really impressed with the results. Kite Hill is definitely now my ricotta of choice, given its versatility, similarity to original dairy ricotta, flavor and performance under pressure.
Being the cheese in my baked rigatoni comes with high expectations. While I believe you can use Kite Hill ricotta in other recipes, for me, this dairy-free substitute's most important test was the baked rigatoni, since it has to do so much in there: blend, melt, crisp, be rich and creamy, but also impart a subtle tartness.
And yet, Kite Hill understood the assignment and passed with flying colors.
So how did we get there? Let me walk you through the cooking process, from cracking open the container to full-blown food coma.
How to Make Vegan Baked Ziti
My mom passed along her baked ziti/rigatoni recipe via text. While it involves a lot of layering, this dish is pretty uncomplicated. Like six-ingredients-only uncomplicated, whether you make it vegan or non-vegan. I'll let you in on the family secret, à la screenshot.
Mix All the Cheese
Upon opening the carton of Kite Hill dairy-free ricotta, the "cheese" inside was a fairly firm block. I started whisking it with a fork. It was clumpy at first, but with more stirring—especially after transporting to a larger bowl where I could really whip it—the ricotta loosened up and turned into a smooth, thick, creamy mixture.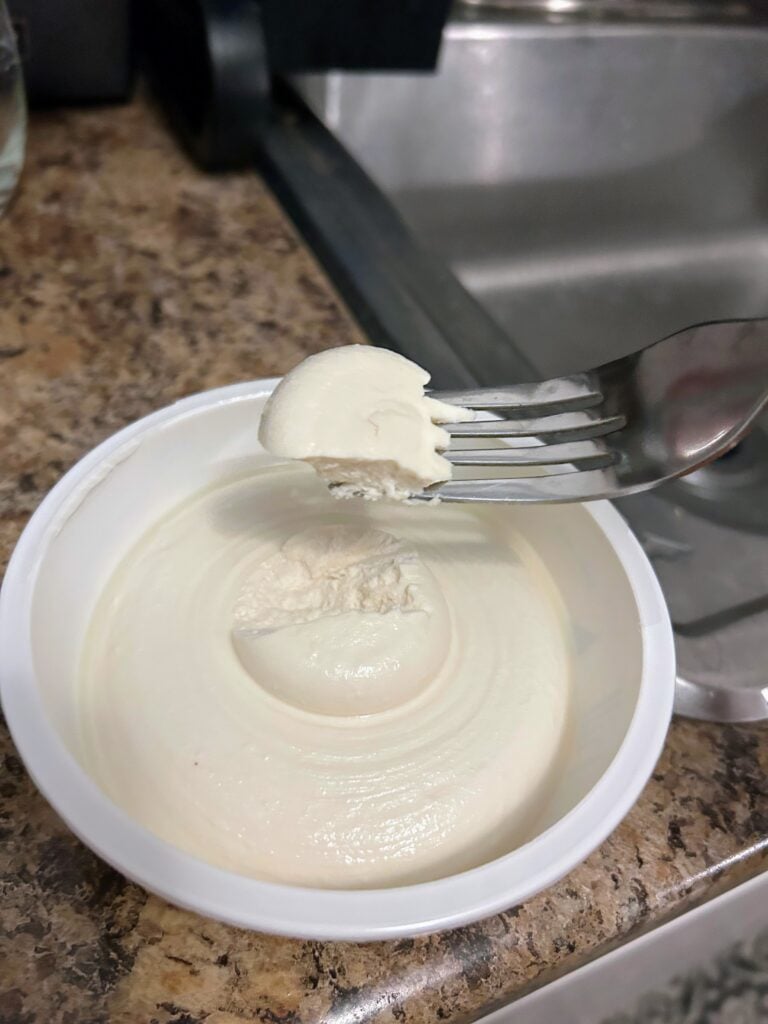 I then added a tablespoon of Just Egg to replace the single egg my mother prescribed. It blended well with other ingredients too: For parmesan I used Follow Your Heart shavings; for mozzarella I used Daiya shreds. Before layering and baking, I also stirred in some lemon juice, a little olive oil, garlic salt and pepper. Because the Kite Hill ricotta was, I believe, a little less milky than "real" ricotta, I wanted to ensure it remained moist while baking.
I was a bit hesitant combining all these different vegan substitutes—three different cheeses and a vegan egg—because they aren't replicas of the originals, and I wasn't sure how they might blend or turn out, texturally, once baked. Also, many vegan cheeses feature similar ingredients, like cashew milk, and can be hit or miss in terms of nailing the flavors particular to specific cheeses (e.g., mozzarella vs. muenster). One of the best parts of a baked rigatoni is the complex blend of milky mozzarella with tangy ricotta and sharp parmesan.
My goal, and fervent hope, was to achieve the simultaneous spongy and stringy texture of the original ricotta-egg-mozz-parm mixture, that so satisfyingly contrasts thick tomato sauce and al dente noodles.
Layer to Your Heart's Delight
Cheese mixture ready, it was time to layer it up with the pasta. I had already cooked the rigatoni and stirred a jar of red sauce into it. Per mom's instructions, I spread some sauce on the bottom of the pan, added noodles, then began dropping ricotta globs.
They maintained their form, but were still spreadable, so I left some in dollops and others I guided around rigatoni tubes. Then more pasta. Then more ricotta. Then more sauce. Bellissimo.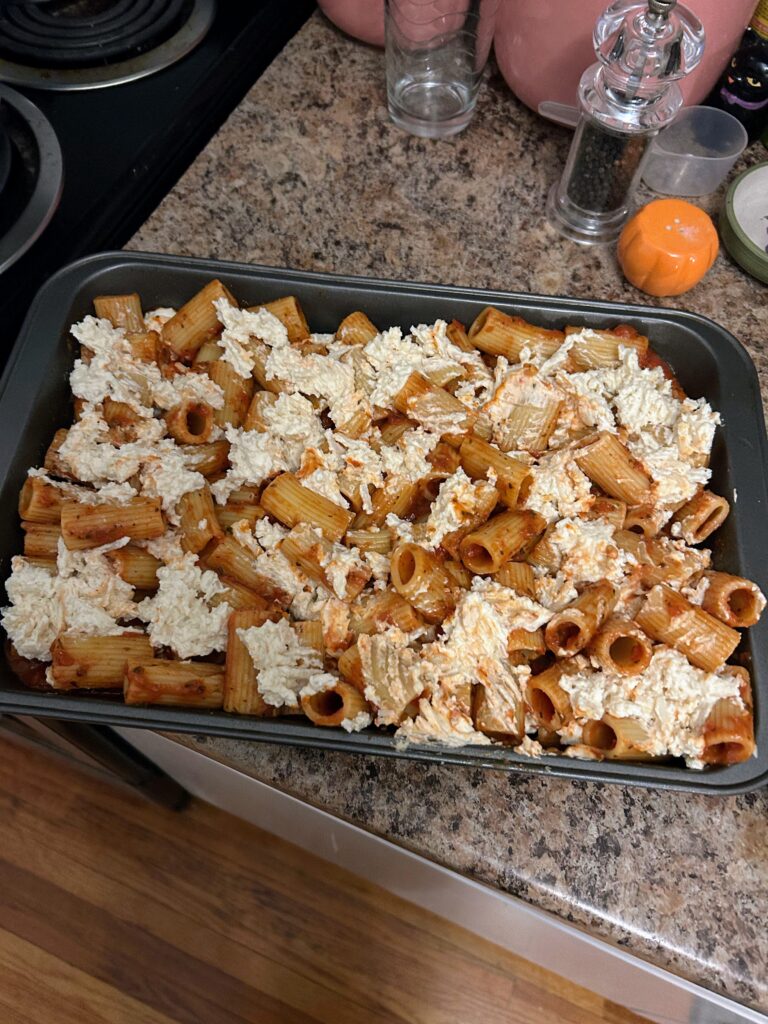 There is room for improvisation here, as well as a choose-your-own-adventure scenario. Build a deep, baked pasta dish in a larger casserole bowl, adding as many layers as you like; this will likely be more moist, saucy and less crispy. Or use a cheap, shallow, cake pan like me (it's called improvising) and opt for two layers of noodles with one expansive, crispier layer on top.
You know what to do now. Pop that in the oven and bake until desired doneness or at least until the center of the pasta is hot.
… And Voilà! 
I'm so happy to report that my vegan baked rigatoni turned out absolutely delicious. Me and my boyfriend indulged in this pasta, went back for seconds, thirds, and then were rendered immobile. Mission accomplished.
The ricotta and egg baked as intended in the oven, creating a fluffy, spongy texture between the noodles, while the parmesan and mozzarella melted for a stringy, fantastically gooey effect. The three vegan cheeses each contributed their unique flavor profiles to create a robust mixture.
I couldn't have been a happier vegan, eating my absolute favorite home cooked meal without any animal products. I definitely think Kite Hill ricotta would be a great addition to your lasagna, ravioli, stuffed shells and other entrees.
But Wait, There's More! Kite Hill's Vegan Ravioli and Tortellini
I didn't realize until writing this that Kite Hill's frozen ravioli and tortellini products all contain their dairy-free ricotta. So, after eating my rigatoni, I ran out to the store to grab MORE pasta! If the cheese tasted so great in my homemade meal, I had to know how it tastes in their own noodles.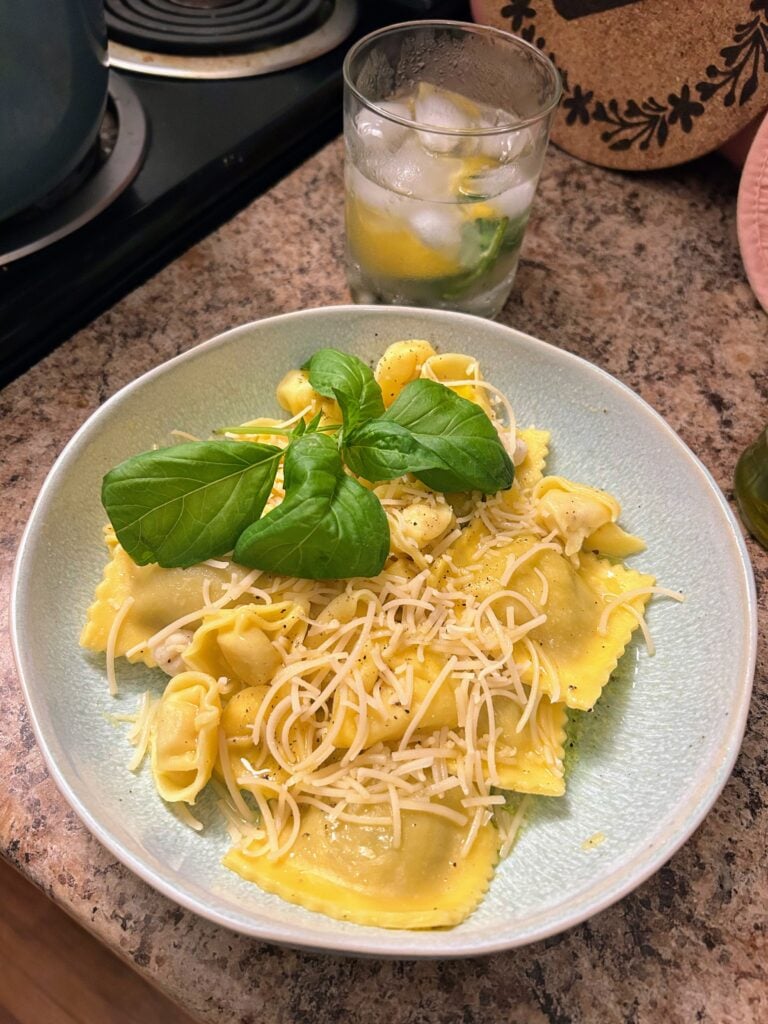 I really enjoyed the tenderness of the pasta for both the tortellini and ravioli. It's a thinner, soft and delicate dough that adequately holds its fillings and balances their bold flavors. The tortellini simply had the tangy ricotta tucked inside; it didn't taste like they added much other flavoring to it, but this way you can make it your own with any sauce or mix-ins of your choosing. The mushroom ravioli were hefty pockets of a blended ricotta-shroom mixture. I loved how the nutty, robust portobello mushrooms complemented the fresh ricotta tang. Both were good, but I preferred the ravioli to the tortellini.
Both of these packages, however, were also about $8 each, which is steep for pasta. I would eat either of them again, but only when I'm looking to treat myself or need them for a particular occasion.
Ok, So What About Vegan Ricotta Desserts?
Oh no, you've found my weak spot. I am not (yet?) talented enough to make my own vegan cannolis. Or my own vegan cheesecake. I know of a few bakeries that are though, and they've done a bang-up job. That said, I still want to make my own someday and find a way to perfect them. 
I think Kite Hill ricotta would blend well with sugar to make a sweet vegan cannoli. I also think it would blend well with a vegan cream cheese to build a decadent cheesecake. I'm sure I'm missing other ricotta-centric desserts. If you make any I'm not listing here, with any type of vegan ricotta, please let us know in the comments!
Where to Buy Kite Hill Vegan Ricotta Cheese
Near me, in Western New York, I've seen Kite Hill ricotta at a number of local grocery chains as well as at Wegmans.
Kite Hill products (which include other cheeses, yogurts and dips) are available at many more grocery stores across the U.S. Some of their major retailers include Whole Foods, Target, Sprouts and Publix.
To see where Kite Hill vegan ricotta is sold near you, use their store locator.