This recipe for easy black beans and rice is one you want to bring to every taco or burrito night. But this recipe is so tasty you can eat it by itself too!
I took a bit of a break from cooking because I was feeling uninspired, though, I had one night where I found enough energy for a burrito night. I wanted rice and I wanted beans but I didn't want to make two separate dishes, so I made black beans and rice.
You could eat these black beans and rice in burritos or as an accompaniment to grilled vegetables. They're perfect for burrito bowls too!
How to make black beans and rice:
The great thing about this recipe is you only need a few ingredients for big flavor.
Vegan butter or oil
Diced onion
Minced garlic
Cumin, chili powder, paprika, and cayenne powder
Rice
Canned black beans
Water or vegetable stock
First, sauté the aromatics. Start with the onion and once it softens, add the minced garlic. Next, add the spices and let them sizzle for 1 minute.
After the spices bloom, add the rice and cook for 1 minute. Next, add the black beans. Finally, pour in the water or stock and bring it to a boil. Cover and cook for 20 minutes or until the rice is tender. Turn off the heat and let stand for 5 minutes. After the rice sits for 5 minutes, I like to add minced scallions on top and cover the pot again. The residual steam cooks them slightly without losing their color and it adds a nice aroma to the dish.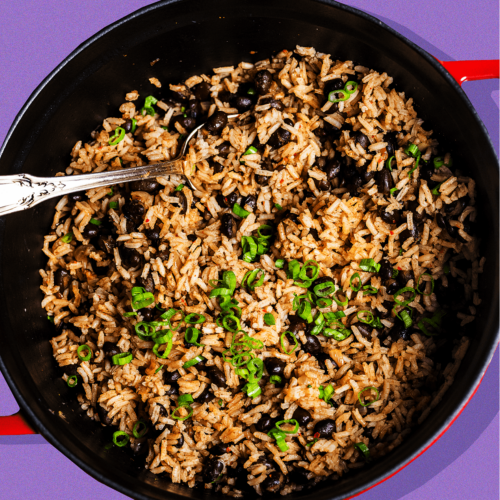 Ingredients
1

tablespoon

plant-based butter or neutral oil

1

yellow onion,

peeled and diced

3

cloves

garlic,

peeled and minced

2

teaspoons

chili powder

1

teaspoon

cumin

½

teaspoon

paprika

½

teaspoon

cayenne,

more or less to taste

1

cup

white rice

14.5-

ounce

can black beans,

drained and rinsed

2¼

cup

water or vegetable stock

2

scallions,

trimmed and minced

Salt and pepper to taste
Instructions
Cook the aromatics:
Melt the plant-based butter into a 4-quart pot over medium-high heat. Once bubbly, add the diced onion and cook for 5–7 minutes until it just softens.

Add the garlic and cook for 1 minute.
Bloom the spices:
Add the chili powder, cumin, paprika, and cayenne and cook, stirring into the aromatics, for 1 minute until fragrant.
Toast the rice:
Add the white rice and cook for 1 minute. Add the black beans and toss to coat.
Simmer the rice:
Pour in the water or vegetable stock and bring to a boil—season with salt. Reduce heat to low and stir the black beans and rice. Cover and simmer for 20 minutes. Turn off the heat and let the rice stand for 5 minutes.
Finish the black beans and rice:
Remove the cover from the pot and add the minced scallions. Cover once more and let stand for 5 minutes to steam the scallions.
To serve:
Serve the black beans and rice with burritos or alongside your favorite grilled or roasted protein. Enjoy!
Nutrition
Calories:
343
kcal
|
Carbohydrates:
65
g
|
Protein:
13
g
|
Fat:
3
g
|
Saturated Fat:
1
g
|
Sodium:
45
mg
|
Fiber:
11
g
|
Sugar:
1
g