This one-pot vegan mushroom orzo is a perfect vegan side dish or, with a bit of plant-based protein, an amazing main course. You'll love this 5-ingredient vegan recipe!
This recipe is such a breeze to make, and it's so satisfying! All you need is one pot and a few ingredients.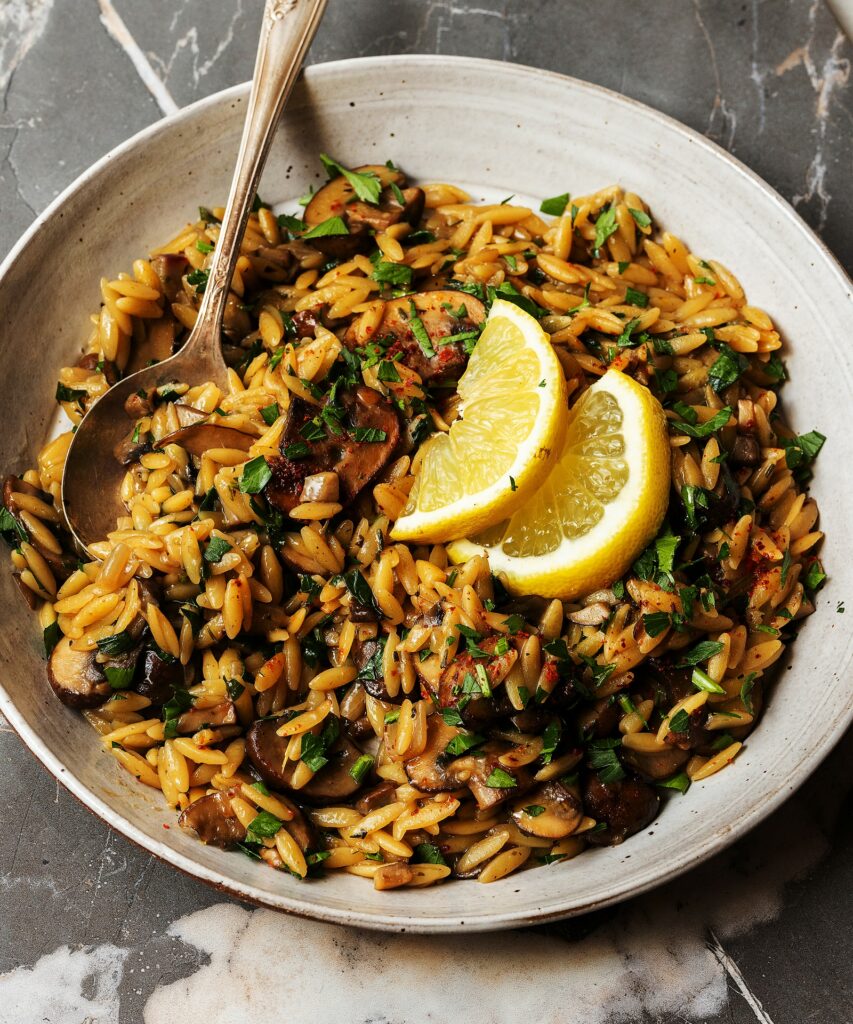 How to make this one-pot vegan mushroom orzo:
For this easy 5-ingredient vegan recipe, you only need a few simple ingredients to make a filling and beautiful dish. Here's what you need:
Shallot: Diced
Mushrooms: I like to slice half and dice half for textural contrast
Dry thyme: For extra savory oomph
Orzo: You can use another short pasta shape too, like ditalini or even fregula
Parsley: For a little herby brightness at the end
Want to make it extra luxe? Stir in a pat or two of plant-based butter at the very end of cooking. You can also serve with a few slices of lemon at service, too!
To make this one-pot vegan mushroom orzo recipe, start by sautéing the mushrooms. You want the mushrooms to develop a gorgeous golden crust, so don't be afraid to sauté them for a while. It's virtually impossible to overcook them! I like to add them to hot oil and then cook, stirring regularly, for 12–15 minutes until they begin to develop a nice crust.
From there, I season liberally with salt and pepper and then let them go a few minutes longer. Don't undercook the mushrooms! You want to cook off as much liquid as possible from the mushrooms.
Once the mushrooms are nice and browned, add the shallot and thyme and cook until fragrant, about 3 minutes.
If the pot is dry, add a bit more olive oil and then add the orzo and toss to coat. Cook the orzo for 1–2 minutes until it just begins to deepen in color.
Next, pour in water or vegetable stock and bring it to a boil. Stir often to prevent the orzo from sticking!
To finish it up, simply stir, stir, stir for 15–18 minutes until the orzo is al dente.
What to serve with this mushroom orzo:
You could add a can of chickpeas to the orzo for extra protein. Or serve this alongside your favorite grilled vegetables. It would also be delicious with vegan Italian sausage!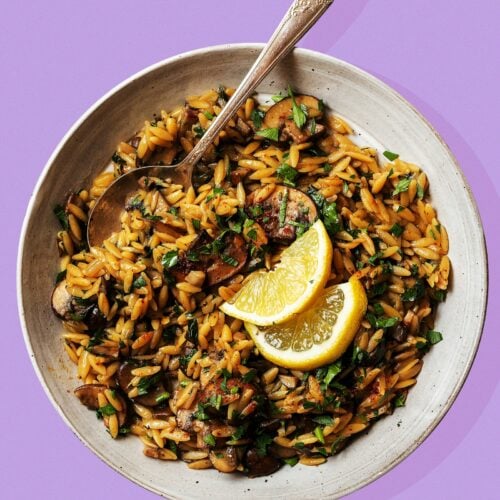 One-Pot Vegan Mushroom Orzo
Mushrooms, shallots, and plenty of time are the perfect foundation for this easy orzo recipe.
PRINT
PIN
Ingredients
2

tablespoons

olive oil

plus more if needed

1

pound

cremini mushrooms

half diced and half thinly sliced

2

large shallots

peeled and diced

1

teaspoon

dry thyme

1

cup

orzo

3

cups

water or vegetable stock

1/3

cup

loosely packed parsley

minced, a pinch reserved for garnish

Salt and pepper to taste
Instructions
Cook the mushrooms:
Heat the olive oil in a wide pot over medium-high heat. Add the mushrooms and arrange them into an even layer. Cook, occasionally stirring, for 12–15 minutes until a golden-brown crust forms and any liquid in the pot has evaporated. Season with salt and pepper and continue cooking for 2–4 minutes more until completely browned.
Add the aromatics:
Add the diced shallots and dry thyme to the pot of mushrooms and toss to combine. Cook for 1–2 minutes until fragrant.
Cook the orzo:
If the pot is dry, add another teaspoon of olive oil. Add the orzo and cook, often stirring, for 1–2 minutes until it begins to toast. Season with a big pinch of salt.

Pour in half the water and bring to a boil. Reduce heat to low, and stir often until the water is absorbed–about 5–6 minutes. Pour in the remaining water and continue cooking, often stirring until the water is completely absorbed and the orzo is al dente, about 15–18 minutes total. If you need more liquid, add it in 1/4 cup increments.

Once the orzo is al dente, taste and season with salt and pepper. Add in the parsley and cook for 2 minutes more. Turn off the heat.
To serve:
Spoon the cooked orzo into shallow bowls. Serve with more minced parsley on top and lemon wedges, if you like. Enjoy!
Nutrition
Calories:
226
kcal
|
Carbohydrates:
33
g
|
Protein:
8
g
|
Fat:
8
g
|
Saturated Fat:
1
g
|
Sodium:
9
mg
|
Fiber:
2
g
|
Sugar:
3
g