This vegan strawberry shortcake overnight oats recipe is topped with a crispy, crunchy crumbled drop biscuit for the most amazing overnight oats recipe ever.
This recipe does have a few steps to make your strawberry shortcake overnight oats dreams come true. The good news is, you're probably hungry for a strawberry shortcake anyway! All you have to do is use the leftover jam and a drop biscuit. From there, it's just a matter of making a basic overnight oats recipe.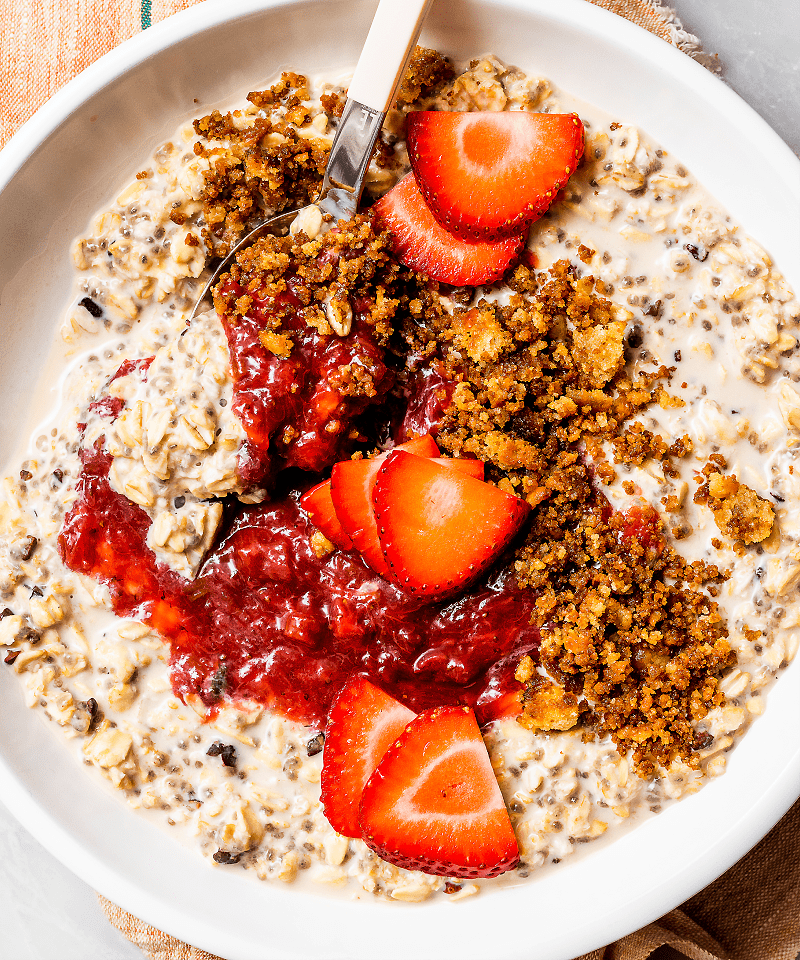 The components of this recipe are simple albeit a little time-consuming to make if you're going to make your own strawberry-rhubarb jam.
Here's what you need:
Homemade jam (you can use my recipe here) or you can use macerated strawberries
Vegan drop biscuit plus a little oil or vegan butter for crisping it up
Overnight oats made with rolled oats, chia, cacao nibs, and oat milk
How to make this vegan strawberry shortcake overnight oats recipe:
First, prepare the jam. If you're making it from scratch, you'll need about an hour and a half to make it. If you're making macerated strawberries, they can be ready in as few as 30 minutes.
Next, make the drop biscuits. These come together so quickly! You only need about 15 minutes to prepare them and 12 minutes to bake them.
Finally, make the overnight oats. You only need 10 or 15 minutes to put the oats together, but since there are chia seeds in it, you really need at least 12 hours for them to set up.
The next day, simply assemble! Spoon the oats into a bowl and add a tablespoon of the homemade jam or macerated strawberries. Sprinkle the crispy drop biscuit on top! It's the perfect blend for a crunchy, sweet, and filling breakfast or snack.
Don't feel like fussing with drop biscuits? Use your favorite crunchy granola brand on top instead!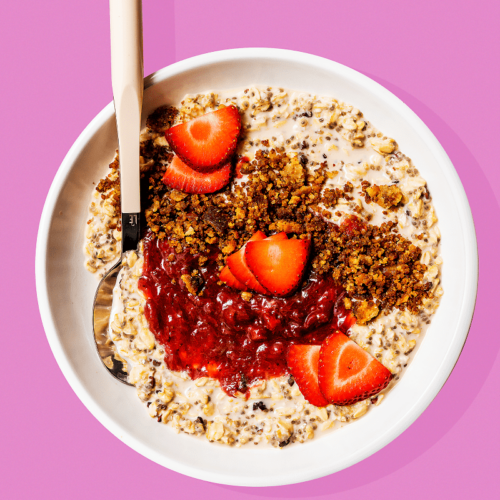 Vegan Strawberry Shortcake Overnight Oats
This vegan strawberry shortcake overnight oats recipe is topped with a crispy, crunchy crumbled drop biscuit for the most amazing overnight oats recipe ever.
PRINT
PIN
Equipment
Saucepan

if making the homemade jam

Baking sheet
Ingredients
Overnight oats:
2

cups

rolled oats

2

cups

oat or almond milk

1/4

cup

chia seeds

2

tablespoons

unsweetened cacao nibs

1/2

teaspoon

cinnamon or pumpkin pie spice
Vegan drop biscuit (makes 2 biscuits):
1/2

cup

all-purpose flour, sifted

1/4

teaspoon

salt

1

teaspoon

baking powder

1

large tablespoon

plant-based butter

2–3

tablespoons

oat milk

1

tablespoon

plant-based butter for frying
Instructions
Prepare the jam:
Prepare the jam according to the original recipe's instructions. Reserve any remaining jam for another use. If you prefer using macerated strawberries, combine the fresh chopped strawberries with the sugar and transfer them to the refrigerator for at least 30 minutes.
Prepare the overnight oats:
Combine all of the ingredients for the overnight oats in a large bowl and stir to combine. Transfer to the refrigerator for one hour. Stir again to ensure the chia seeds aren't clumping, and then cover and refrigerate for 12 hours.
Prepare the drop biscuits:
Combine the flour, salt, and baking powder in a bowl. Add the plant-based butter, working it with your hands or a fork until the mixture becomes crumbly and the butter is the size of small peas.

Add the oat milk and work it with your hands until sticky. Don't overwork the dough!

Divide the mixture into two biscuits and transfer them to a greased baking sheet. Bake for 12 minutes until golden brown on the bottom. Let cool completely.
Crisp up the biscuits:
Melt the butter into a skillet over medium heat. Crumble the cooled biscuits into the hot butter and cook, occasionally stirring, for 4–5 minutes until crispy and golden brown. Pour into a bowl and let cool. Once cool, transfer to a freezer or storage bag. Do not refrigerate the crispy biscuits.
To serve:
Stir the overnight oats once more. Taste them and season them to your preferences. Divide between bowls and spoon the jam or macerated strawberries on top. Serve with the crispy, crumbled drop biscuits on top. Enjoy!
Nutrition
Calories:
218
kcal
|
Carbohydrates:
37
g
|
Protein:
7
g
|
Fat:
5
g
|
Saturated Fat:
1
g
|
Sodium:
208
mg
|
Fiber:
6
g
|
Sugar:
7
g